How Well Will Sixt Travel?
Germany's No.1 car-rental outfit wants to drive across Europe
David Woodruff
Passengers disembarking at Cologne's airport earlier this year did double takes when they reached the baggage claim area. Parked near the revolving belts was a mud-encrusted Ford Explorer 4x4. A sign perched on the hood declared: "Sixt fulfills your dirtiest fantasies."
Such cheeky advertising is a trademark for Sixt, mogul Erich Sixt's German car-rental company. Clever marketing largely explains why the Bavarian entrepreneur has roared to the front of the pack in Germany's $1.7 billion car-rental industry. In the last five years, the 63-year-old Sixt has left bigger rivals such as Hertz Corp. and Avis Europe in the dust, nearly doubling his company's market share, to 24% (chart). Earnings have zoomed, too. Including those from Sixt's leasing operation and from used car sales, they rose 65% in 1996, to $31 million, on sales of $1.4 billion.
BUDGET BROUHAHA. Now Sixt wants to repeat this success outside Germany. But given his reliance on marketing, his formula won't be easy to export. Consumer preferences differ markedly from country to country. The luxury BMWs and Mercedes that lure customers in Germany, for instance, may turn off French drivers, who tend to prefer homegrown brands. Sixt's long and profitable reservation-sharing alliance with U.S.-based Budget Rent A Car Corp. is unraveling. And newcomers struggle for years to achieve the scale needed to operate efficiently. "It is very difficult to reach a critical mass," says Thomas U. Sedran, a car-rental expert at Munich-based management consultant Roland Berger & Partner.
Sixt has already tiptoed into the small Austrian and Swiss markets, with nine outlets in the two countries. This spring, he took a big leap into France, Europe's third-largest market, by taking a 60% interest in a joint venture with Paris-based Euro-rent. The new company now operates more than 120 outlets in France. His next move: across the Channel to Britain, Europe's No.2 market.
Sixt's expansion plans have already sparked a row with his U.S. partner. Budget charges that Sixt is violating their reservation-sharing agreement by shunting non-German bookings to his new European outlets, rather than passing them along to Budget. After a flurry of lawsuits this spring, both sides have been trying to negotiate a compromise--so far unsuccessfully.
If the alliance falls apart, it will not be a major blow for Sixt's sales. The bookings derived from the Budget connection account for just 2% of Sixt's total. But Budget would probably set up its own operation in Germany, says Paul D. Johnson, Budget's European director of sales and marketing. That could create a formidable new competitor on Sixt's home turf.
Another question is whether the ads that have helped fuel Sixt's German growth will work elsewhere in Europe. Sixt far outspends rivals on ads, paying an estimated $11 million annually to place pitches on everything from billboards to 5,000 airport luggage carts. But it's too early to tell how well Sixt's humor translates in other markets. For example, a recent spread in the weekly Der Spiegel pictures four weeping men. "No rental company makes its customers unhappier," says the headline. A small note explains that the men have just returned cars that Germans consider highly desirable, such as Mercedes-Benz's SLK convertible.
Sixt has also forged marketing alliances with important partners such as Lufthansa and Deutsche Bahn, the German railroad. Travelers can book Sixt cars at ticket counters or even in-flight. As a newcomer to non-German markets, Sixt will likely have difficulty cementing similar relationships, say analysts.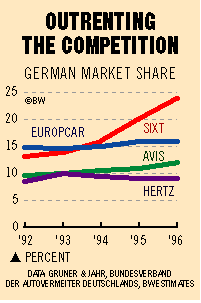 Moreover, rivals that snoozed while Sixt rocketed ahead in Germany aren't likely to make that mistake again. One is Europcar, a joint venture between Volkswagen and French hotel group Accor. Already Europe's biggest rental company, it is beefing up its presence in Germany, where it has nearly double Sixt's 300 outlets. Avis is flush with cash, having just raised $250 million in a stock offering. "We will be defending our position," promises David Maloney, Avis Europe's financial director.
The prospect of a tussle doesn't deter Sixt. After taking over his father's business in 1969, he doggedly built two rental outlets into a national powerhouse. Setbacks, such as a disastrous foray in the early 1990s into leasing everything from office equipment to airplanes, only seem to solidify his resolve. That's why rivals have to take seriously his current fantasy of running over Europe like a monster 4x4.
Before it's here, it's on the Bloomberg Terminal.
LEARN MORE