Britain: Robust Growth Sets Up A Policy Dilemma
by
The British economy has chalked up another quarter of robust growth. Real gross domestic product grew 0.9% in the second quarter from the first, and it is up a solid 3.4% from year-ago levels. However, that pace is well above the Treasury's 2.25% estimate of the economy's maximum noninflationary trend rate, putting policymakers in a bind.
That's because growth is uneven, reflecting the strong British pound. Domestic demand for business and financial services and communications led the second-quarter rise, and consumer spending was very strong. Real retail sales grew at an annual rate of 7.2% last quarter. Household spending is being fueled in part by stronger labor markets. The number of unemployed fell by a substantial 36,500 in June.
Manufacturing, however, is struggling. Industrial production, down 0.9% in May, is growing roughly similar to its year-ago pace, as a strong sterling hammers exports. Low inflation, a strong economy, and rising interest rates have lifted the trade-weighted pound by 25% over the past year, and exports have fallen in five out of the last seven months. The Confederation of British Industry's quarterly survey showed that export orders in the second quarter fell by the largest amount in six years. The plunge, along with prospects for higher interest rates, brought down the overall business confidence index by six points.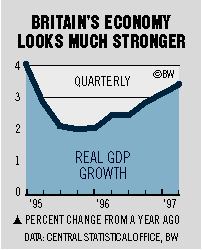 The pound should strengthen further as the Bank of England hikes rates to head off inflation. The newly independent BOE has lifted base rates three times in as many months, including a quarter-point hike in July. The dilemma for policymakers: how to blunt inflation without killing manufacturing. "What we have is very bubbly consumer demand and house-price inflation which is little affected by a high exchange rate," says BOE Deputy Governor Howard Davies.
But with the consensus forecast expecting robust GDP growth of 3.2% in the second half, and with inflation already drifting above the Treasury's target rate of 2.5%, further hikes seem likely.
Before it's here, it's on the Bloomberg Terminal.
LEARN MORE