This News Mogul Was His Own Best Story
by
THE COLONEL
The Life and Legend of Robert R. McCormick
By Richard Norton Smith
Houghton-Mifflin 597pp $35
Whatever happened to America's screwball millionaires? Once there were giants: Railroad baron Commodore Cornelius Vanderbilt relied on seances to communicate with the dead and a seer for stock-market predictions. The puritanical Henry Ford fired employees whom his spies caught smoking and once threatened to stop all Ford auto production if prohibition were repealed.
And then there was Colonel Robert R. McCormick, publisher-editor of the Chicago Tribune from 1914 until his death in 1955, and master of an empire that included radio and TV stations (bearing the call letters WGN, for World's Greatest Newspaper), a fleet of ships, 7,000 square miles of timberland, prime Chicago real estate, and more.
The product of a British public school, where he got a Tory accent and numerous affectations, McCormick waged a bizarre, lifelong war of editorial invective against Britain ("the Brutish Empire"). A self-proclaimed spokesman for heartland America against New York decadence and pretension, the 6-foot 4-inch World War I vet would stride through the newsroom dressed in an English officer's jacket, boots and spurs, a polo stick in hand, and three German police dogs on a leash. Despite a fascination with war and claims to be a military mastermind, he became an ardent isolationist.
And while condemning licentious behavior in others, he persuaded the wives of two friends to divorce their husbands and wed him (though not at the same time). The spouses were appeased by large cash payments.
All this outlandishness, plus the man's intuitive business acumen, is thoroughly described in Richard Norton Smith's The Colonel: The Life and Legend of Robert R. McCormick. Smith, who has also written books on Thomas E. Dewey and George Washington, is the first biographer to gain access to all of McCormick's personal and business papers. The result is a solid, balanced portrait of a fascinating, if not always admirable, media mogul.
"Bert" McCormick inherited his post at the Tribune, which was owned largely by his family, when other heirs faltered, and after cousin Joe Patterson left to run a sister publication, the New York Daily News. It wasn't long before the paper mirrored McCormick's eccentric style--which proved a draw to readers. "A great many Chicagoans despise the Tribune," observed John Gunther in his book Inside U.S.A., "but its circulation steadily goes up...."
No doubt, many were buying it to see what the Colonel would do or say next. In the midst of the cold war, he proposed a "city-wide burning of babushkas...those regimenting rags." Once he sent a correspondent to Madison, Wis., a hotbed of liberalism, to investigate his theory that University of Wisconsin men wore lace underwear. He directed the Trib to use a streamlined form of spelling, replacing island, for example, with iland and freight with frate. Responding to a command to "get rabbit quote daily," the Trib's financial pages for a time carried the going rate for hare--all because the Colonel felt he'd been overcharged at dinner. As staffers pondered his sanity, "The newspaper became a megaphone to amplify the publisher's caprices," concludes Smith.
Sections tailored to different neighborhoods also proved a magnet for circulation, as did splashes of color, sports coverage, and such comics as "Dick Tracy" and "Little Orphan Annie," introduced and syndicated by the Trib. There was even stuff for highbrows: Foreign correspondents included such writers as William L. Shirer, later famed for his chronicles of the Third Reich.
A Republican activist, McCormick often clashed with Democrats, particularly President Franklin D. Roosevelt. For years, the Trib smeared FDR, first likening him to Hitler, then labeling him a communist. (Meanwhile, until the U.S. entered the war, the newspaper made apologies for the Fuhrer, despite solid evidence of Nazi horrors.) In 1942, the feud with FDR took a dramatic turn following a sensational Tribune scoop. An account of the battle of Midway gave evidence that victorious U.S. Navy commanders had known of the Japanese battle plans in advance--possibly by breaking their codes. The story, which ran unvetted by Navy censors, caused a furor: FDR threatened to send Marines to occupy Tribune Tower, then pushed the Justice Dept. to indict his bitter foe under the Espionage Act. But the Navy's reluctance to publicly discuss code-breaking led, in the end, to a dismissal of charges. For the President, it was a brutal defeat--compounded by the success of the Tribune, which that year had a circulation of one million.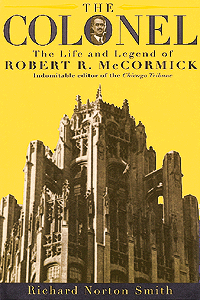 The Colonel hardly confines its focus to journalism. In fact, some may feel that it dwells too much on McCormick's personal life. Armchair psychologists, though, may find an explanation for McCormick's peculiar romances in portraits of his weak father and vengeful, unloving mother.
At age 75, McCormick's life ended, Smith says, as tragedy: "Marooned in the second half of the twentieth century," he was "thwarted in politics and frustrated in love, irreconcilably alienated from the political party that had been synonymous with three generations of his family." By the time of his death, from heart disease and cirrhosis, this outsize personality had become a physically shrunken man, unable to fill the extra-large casket he had, some years before, ordered for himself.
Before it's here, it's on the Bloomberg Terminal.
LEARN MORE