Commentary: My Dad's Harrowing Trip Through A Medicare Hmo
By
A little more than a year ago, I learned that my father was dying. "Let me put it to you this way: I wouldn't sell him a six-month life-insurance policy," said the cardiologist, who knew everything--and nothing--about the human heart.
Since that day in May, 1996, my mother and I watched heart disease drain my father's life away. First, he could not walk unaided. Then, he could not eat or sit up or speak. Even music, which he had loved since childhood, was lost to him. On July 8, 1997, my father died.
In those 14 months, I saw close up how medical care is delivered to chronically ill seniors by health-maintenance organizations trying to balance cost-saving with care. It was discouraging.
If my family's experience was any gauge, there is a yawning gulf between the promise of Medicare HMOs and reality. They pledge seniors low-cost, comprehensive care. But the HMOs are businesses that can view the frail elderly--who need costly treatment--as a drain on earnings. To assure good care for my father, we had to spend a tremendous amount of time and energy negotiating with doctors and plan representatives. But my father was lucky. He had my mother and me. What of the elderly who are alone?
FEW OPTIONS. More than 100,000 seniors are joining HMOs every month, and they now make up 12% of the Medicare population. This explosive growth is no surprise: HMOs promise all the benefits of Medicare and often offer extras, such as free prescription drugs. For many seniors, the only alternative is Medigap, private insurance that supplements Medicare. Such policies can be expensive. My mother pays $133 a month for hers.
President Clinton and many congressional Republicans see HMOs as the key to driving down skyrocketing Medicare costs. The coming budget deal will likely push more seniors into the plans.
Yet despite the rush to HMOs, no one really knows if they provide quality care for the frail elderly. One study, by John E. Ware of the New England Medical Center, found that chronically ill patients in HMOs were twice as likely to suffer physical decline as those in traditional Medicare. Says Bruce M. Fried, director of Medicare's Office of Managed Care: "I think we don't know enough."
My father's plan, Prudential HealthCare SeniorCare, did fine while he was relatively healthy and even immediately following his first heart attack. But that changed with the second episode of heart failure. On Aug. 21, after he had been in the hospital for nine days, my mother received a frightening phone call: After that day, Prudential would no longer pay for his stay. Unable to walk, catheterized, and loaded with medication, my father went home as my mother scrambled to find the 24-hour care he needed.
Once he was home, getting care became a bureaucratic nightmare. He could not see a specialist without first visiting his primary-care doctor. That meant two office visits, each by ambulance. We also found that his doctor was painfully slow in responding to problems. When we complained, Prudential's advice was to change doctors. My mother called three. One wouldn't take any more HMO patients. The other two never even called back.
In a written statement, Amy Knapp, executive director of Prudential HealthCare-South Florida said: "Our records indicate Mr. Gleckman's physicians worked very closely with him to assure he was receiving the care he needed...Prudential HealthCare realizes...there may be circumstances where a member's expectations are not met."
BARE MINIMUM. My father had the right to quit the HMO and return to Medicare. But given his condition, he would never have been able to buy Medigap insurance. As his illness worsened, my father asked that no heroic measures be taken to prolong his life. He became a patient at a hospice that sent a nurse to visit him at home twice a week. In a system where Medicare spends more than $63 billion annually to care for the elderly in the last year of life, my father chose to avoid costly hospitals. Still, getting even the modest care he needed to stay comfortable was a struggle.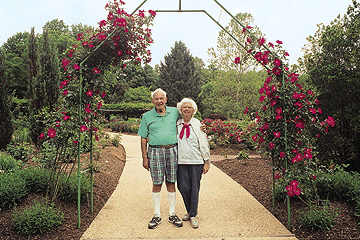 Some HMOs are trying to do better. A few are giving patients long-term referrals to specialists rather than requiring a primary-care visit every time. Others have developed a hospice-like team approach in which nurses, social workers, doctors, and even clergy work together.
Still, questions about quality of care have largely been lost in the debate over the financially troubled Medicare system. Congress is so fixated on finding $115 billion in budget savings that it has become oblivious to the consequences. There may be a way to hold down costs and provide high-quality care. But when it comes to the frail elderly, we are far from finding it.