Colombia: Heading Down The Comeback Trail
by
Colombia's economy is struggling to emerge from its worst showing in two decades. Last year's government crisis, in which President Ernesto Samper was accused of taking $6 million in campaign donations from drug traffickers, occupied policymakers so much that they neglected the economy just as growth was slowing amid fallout from Mexico's peso crisis. GDP has fallen from its year-ago level for two quarters in a row, and second-quarter growth is expected to be weak.
In response to the central bank's 10-percentage-point cut in interest rates over the past year, however, a halting recovery is under way. Credit demand is accelerating. Car buying is up strongly, and cement sales have stopped falling. A weak job market will restrain consumer spending, though: The first-quarter jobless rate rose to 12.7%, from 11.3% in the fourth quarter. Private economists expect GDP growth of 2% this year, about the same as last year, with 1998 growth regaining the 5% pace of 1995.
Although the coffee harvest was poor, oil output is set to rise 60% in the coming year, which alone will add about a percentage point to GDP growth. Oil accounts for 27% of exports, which will benefit generally from the weaker Colombian peso.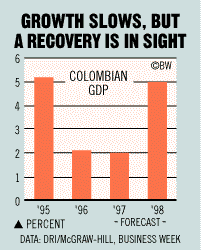 Uncertainty over upcoming elections, heightened by recent rural guerrilla activity and poor U.S. relations, has chilled the investment climate. The U.S. denied Colombia certain financial support for a second year, citing its inertia in fighting the drug war. The crisis also sapped so much of Samper's political capital that he cannot take strong measures to cut the fiscal deficit, expected to be 4.5% of GDP this year.
Still, with the economy mending and with inflation at an 11-year low of 18.7%, June's portfolio investment was up from a year ago. And while its current account deficit is a high 4% of GDP, Colombia has ample foreign direct investment and currency reserves. Moreover, Colombia has something that only one other Latin American country has--an investment-grade credit rating.
Before it's here, it's on the Bloomberg Terminal.
LEARN MORE