U.S.: Shoppers Hit A Speed Bump, But May Rev Up Again
The foundations for stronger growth are already in place
by
As Washington's data mills start to close the books on the second quarter, the numbers prove only what most economists had expected: Demand, especially by consumers, slowed sharply after the first quarter's surge. So now the attention of the financial markets and business planners is keenly focused on the third quarter. Will it be more of the same, or was the slowdown just a pause before another burst of strength?
Very little third-quarter data are available, but based on second-quarter trends in several key areas, such as retail sales, income growth, financial-market conditions, factory orders, and industrial production, the foundations for a growth rebound are in place. In particular, consumer spending seems set to pick up, perhaps substantially, given that the underpinnings of household demand are even stronger now than they were six months ago.
When the Commerce Dept. reports on second-quarter real gross domestic product on July 31, the numbers are expected to show that, despite weak consumer outlays, capital spending by businesses continued to rise strongly in response to good profits, cheap financing, and robust demand, especially from abroad. Indeed, despite the strong dollar, exports generally are increasing amid improvement in the economies of key U.S. markets. And housing is showing resilience in the face of lower mortgage rates and healthy job markets. Still, the retrenchment in consumer spending--which accounts for two-thirds of GDP--means the economy grew by only about 2%.
NOT SURPRISINGLY, retailers bore the brunt of the spring consumer slowdown. Retail sales rose a larger-than-expected 0.5% in June, but that followed three consecutive drops (chart). After adjusting for prices, retail volume probably fell at an annual rate of 2.5% in the second quarter.
However, not all retailers suffered equally. In particular, sales of motor vehicles and gasoline collapsed last quarter. The former partly reflects a recoil after car sales surged 16.3% in the first quarter, largely because of one-time factors, such as early tax refunds and unusually good weather. The latter drop in receipts represents the fall in energy prices. As the consumer price data show, gas prices plunged at a 26.6% annual rate last quarter. Cheaper energy has contributed to the slowdown in overall inflation (chart). As a result, households have greater buying power--a big reason why shoppers can bounce back.
Sales elsewhere strengthened as the quarter progressed. Furniture stores and building-material retailers posted healthy sales gains last quarter on top of solid advances in the first. Those increases reflect the strong housing market, and the trends in the latest survey of homebuilders and in mortgage applications for home purchases suggest that home buying will remain at a high level in the second half. Through the week ended July 4, the four-week average of applications was the highest since the Mortgage Bankers Association of America started keeping track in 1990.
Other retailers, including department stores and food and apparel sellers, saw small declines in sales last quarter. Again, however, the weakness occurred early in the quarter, so that these merchants headed into the third quarter with some selling momentum. Department-store sales increased a solid 0.9% in June after rising 0.5% in May.
For early July, at least, retail survey results are mixed. But more important, no data released in the second quarter show any changes in the health of consumer fundamentals. Job and income growth remained solid, while consumer confidence jumped. The soaring stock and bond markets are adding to household wealth, while hopes of a tax cut are contributing to a sense of well-being. Moreover, the fiscal 1998 budget, which kicks in on Oct. 1, is likely to be stimulative, with any pain from deficit-cutting reserved for later years.
THE LATEST DATA ON PRODUCTION also show evidence of momentum heading into the third quarter. Not only were manufacturers busy at the end of the second quarter, but the latest readings on orders and inventories argue that output will continue to expand.
Industrial output rose 0.3% in June, led by gains in transportation equipment and utility output. Factory output alone was also up 0.3%. For the quarter, industrial output grew at a 4.2% annual rate, not far below the 4.5% pace of both the fourth and first quarters.
Production of business equipment, particularly high-tech machinery, is leading the advance. Production of information-processing equipment--everything from grocery-store scanners to office computer networks--soared by about 12% in the first and second quarters (chart). The high-tech production surge reflects both capital investment by productivity-seeking U.S. corporations and the steady double-digit growth of high-tech exports.
Factory output will rise further because the high level of orders show that demand is mounting. New orders excluding aircraft have grown for five consecutive quarters, and the backlog of unfilled orders outside of planes also is rising.
Moreover, businesses cannot fill those orders from their warehouses. Total inventories held by factories, wholesalers, and retailers rose just 0.2% in May. And the inventory-sales ratio, though up a bit from February, was still extremely low by historical standards.
AT THE SAME TIME, the growth in output has not yet put strains on capacity use or raised worries about price pressures. The average operating rate for all industry remained at 83.5% in June. Factory usage slipped to 82.5% from 82.6% in May. But output has grown faster than new capacity. As a result, operating rates are a percentage point higher than in early 1996.
Even so, the higher operating rates are not near the danger zone typically associated with production bottlenecks and shortages that lead to price increases. Producer prices of finished goods fell for the sixth consecutive month, slipping 0.1% in June. Falling energy prices more than offset a rise in food prices. Excluding volatile food and fuel costs, core producer prices rose just 0.1%. Both the total producer price index and core index are about flat from a year ago.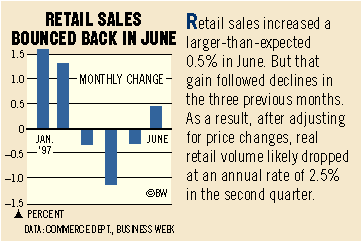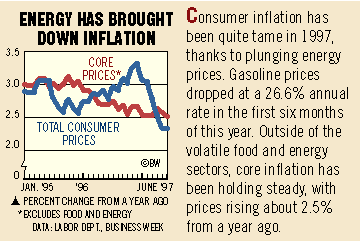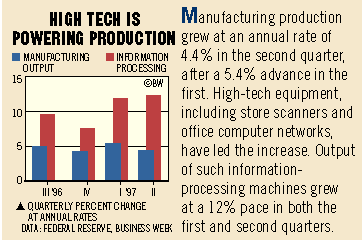 Consumer prices are equally tame. The total consumer price index and the core CPI each increased just 0.1% in June. For the entire first half, total prices grew at an annual rate of just 1.4%. Core prices were up 2.4%.
Inflation should remain low in the second half. But investors and executives will more likely concentrate on demand. Capital spending and exports will certainly play roles, but consumers, who account for the bulk of spending, will be squarely in the spotlight. How strongly they snap back will decide just how spunky the third quarter will be.
Before it's here, it's on the Bloomberg Terminal.
LEARN MORE