Securing Data And Growth
by
Who do you call when disaster strikes your computer system? Folks at some blue-chip companies and government agencies call SunGard Data Systems (SDS), a major provider of data-recovery and support services. Lately, the stock has been in a quick recovery of its own, bolting up from 42 a share in late June to 51 in mid-July. The reason: snappy sales and earnings growth.
Some pros, including Merrill Lynch's Stephen McClellan, see more: a takeover target. "Management would consider a takeover at the right price," says McClellan, who insists he doesn't know if SunGard has received any offers. Based on earnings growth alone, SunGard should hit 67 over the next 12 months, he says.
Says one San Francisco money manager who has been buying shares: "With a market value of $2.2 billion and 1996 revenues of $670 million, SunGard is worth 75 in a takeover." It will be an ideal fit for any of the large computer companies, such as Automatic Data Processing or Electronic Data Systems, he adds.
Merrill's McClellan is impressed by SunGard's leading market position in financial-investment software and computer-disaster recovery services. It's "hitting on all cylinders, with revenue expansion in its mainstream computer services well above 20%," he says.
SunGard provides solutions to two pressing business needs: data processing support to the investment community and data-recovery systems for companies that suffer disruptions from such disasters as earthquakes, floods, or power failures. The company maintains alternate data processing sites, including mobile units, for customers caught in emergencies.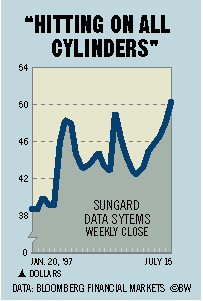 SunGard, observes McClellan, "has a blue-chip customer base, high [business] retention level, strong cash flow and finances, and an accretive acquisition strategy." Customers include Chase Manhattan and Citicorp. Some 80% of revenues is on a recurring basis and, he notes, margins are "trending upward." The consolidation in the banking industry, he says, has been a boon to SunGard. "It benefits from the proliferation of financial and investment instruments and from the big mergers going on." McClellan expects the company to earn $1.90 a share in 1997 and $2.27 in 1998, vs. 1996's $1.59.
Before it's here, it's on the Bloomberg Terminal.
LEARN MORE