Ridin' That Tech Train
Strong PC sales and big earnings buoy investors
Gary Mcwilliams
All year long, as the bull market gathered a new head of steam and pushed through previous records, investors kept a careful eye on the technology stocks that have been such a huge factor in the market's rise. For months, any sign of trouble--real or imagined--sent tremors through the tech sector. By the end of the first half, the Standard & Poor's Computer Systems Index trailed the S&P 500 stock index by 2%.
Not anymore. As analysts began to focus on second-quarter earnings, it became clear that the boom in personal-computer sales--the key driver of the tech sector--was not slowing. Investors launched a tech-stock buying spree and drove tech-laden market indexes to new highs. For the first two weeks of July, the S&P computer index soared 15%, vs. a 4% gain in the broader S&P 500 index. Instead of getting the jitters, investors viewed news through rose-colored glasses. Analysts took a round of price cuts by Compaq, Hewlett-Packard, and IBM not as a sign of a margin-eroding price war but as a harbinger of greater sales and smooth sailing through the key Christmas selling season.
More broadly, the technology sector is still delivering the best earnings growth in the galaxy. According to data compiled by FirstCall Corp., analysts expect a 27% jump in profits from tech companies in the second quarter and 28% for the year. Tech's June-quarter earnings jump, says FirstCall, should be more than double the next-highest sector, consumer noncyclicals. "Technology is the real standout this quarter, despite all the pre-announcement hoopla," says the firm's research director, Charles L. Hill.
Strong earnings from bellwether computer and semiconductor stocks had investors pouring money into tech stocks the week of July 14. On July 15, Intel Corp. reported a better-than-expected 58% jump in second-quarter earnings, to $1.6 billion, on a 29% sales increase, to $6 billion. Intel CEO Andrew S. Grove, who in May had warned of softness in some Intel chips, said he saw "strong" demand for Intel's newest Pentium chips. The same day, Texas Instruments Inc. streaked 12 points to close at 109 1/2, a 52-week high, on strength in chips for modems, cell phones, and multimedia PC gear.
The bulls' best friend, however, was Compaq Computer Corp. Its unit sales rose 42%, topping a 27% first-quarter gain. Compaq hit a new high of 133 1/2 on July 16, up 79% so far this year. That helped push the S&P computer index to a new 52-week high of 352.8 on July 16.
Compaq's sales surge, company executives disclosed, was the result of a new pricing scheme aimed at halting inroads by rival Dell Computer Corp. After price cuts of up to 15% on selected models in April and May created fresh demand, the company made across-the-board cuts in July. But earnings won't suffer, the company says, because an overhaul to its manufacturing and distribution system has cut costs. Production plans call for delivering 33% higher unit shipments in the second half of this year.
That's nearly twice the expected industry growth rate--and a sign of trouble ahead for some PC makers. International Data Corp. and Dataquest Inc. are predicting that worldwide PC unit sales will rise by 15.5% and 19%, respectively, this year, vs. 18% in 1996. Outsize gains by Compaq, Dell, IBM, Gateway 2000, and other strong performers come at the expense of other players. "There's no middle ground right now," says Comp-
USA Inc. Chief Executive James F. Halpin. "You're either doing well or doing poorly." Agrees Compaq CEO Eckhard Pfeiffer: "The big brand names will continue gaining share."
ROOM TO GROW. That could spell more woes for middle-tier suppliers, such as Apple Computer, AST Research, Acer Group, and Packard Bell NEC--all of which are struggling to halt market-share losses. With their broader product lines and aggressive pricing, the biggest companies are soaking up sales that once went to niche specialists. Home-PC specialist Packard Bell NEC Inc., for instance, is being forced to create a corporate sales effort to offset slowing sales to consumers.
Dell shows the results of this shift. Its share price has jumped 178% this year, to 148 1/4, on July 16--after nearly tripling last year. With just a 6% share of the huge PC market, "Dell can continue to grow at twice the market rate," predicts Southcoast Capital Corp. PC analyst Ashok Kumar.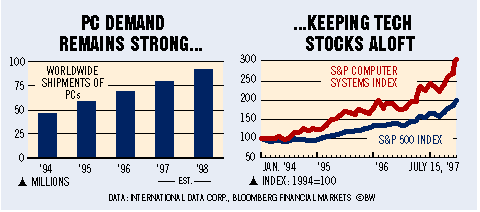 Will the Intels, Dells, and Compaqs lead the tech sector--and the market--to more records? It's good to bear in mind that summer, with its retail slowdown, is the season when the market frets about tech stocks. Last July's 17% drop in the NASDAQ index is still fresh in many investors' minds. But this year, there's no sign of flagging enthusiasm for tech. "Christmas has come every year in the PC industry. I'd be willing to bet money it comes this year," says Michael Carmen, vice-president at Boston money-manager State Street Research & Management Co. For investors, it's looking a little like Christmas in July.
Before it's here, it's on the Bloomberg Terminal.
LEARN MORE