Fruit And Veggie Life Support
by
How do you keep newly cut fruits and vegetables fresh for several days or even weeks? Some investors think EPL Technologies (EPTG) has the answer, and they've been scooping up shares of the little-known company. The stock, trading at 4 in late April, has been on the rise and hit 6 1/4 on July 15. The company says its food-processing technology helps extend the shelf life of produce by inhibiting the enzymatic browning and subsequent degradation of cut fruits and veggies.
"If it proves to be true, there will be a huge worldwide demand for EPL's technology," says Harvey Eisen, senior vice-president for investments at Travelers Group. So far, it's all speculative, he adds. The proof will be in the contracts that EPL should attract, he adds.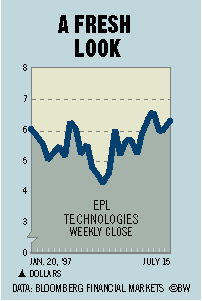 Some money managers contend that EPL expects to soon sign a contract with a major food-processing company. A year ago, the company had signed a letter of intent with Pillsbury for a joint venture to use EPL's proprietary organic acid-based processing solution in potatoes. So far, nothing has come out of the pact, but some think a contract is forthcoming.
Another believer in the product is Amanda Bernardi, an analyst at Hermitage Capital, a New York investment firm that has accumulated shares. EPL's technology covers eight produce categories, including potatoes, apples, and onions. Bernardi, who expects the company to show a loss this year on estimated sales of $21 million, figures EPL will earn 55 cents in 1998 on sales of $62 million.
Before it's here, it's on the Bloomberg Terminal.
LEARN MORE