Does Pepsi Stock Have More Fizz?
Nicole Harris
The weather's hot, and the cola wars are in full swing. Coca-Cola is charging after consumers with its Incredible Summer promotion, while PepsiCo is counting on its Pepsi Stuff giveaways to help it win fans. But far from the beaches and ball fields, the two beverage giants are waging a different kind of battle--for a bigger share of investors' money. In these cola wars, investors must decide whether Coke, Pepsi, or maybe a combination of the two will add fizz to their portfolios.
A SODA PLAY. For years, whenever investors wanted to dip into beverage stocks, Coke was the first company that came to mind. The Atlanta-based soft drink giant's per-share profits have grown about 18% annually over the past five years, and analysts predict it can deliver similar returns over the next five. Investors think such assured growth is worth more than 40 times earnings. Meanwhile, many investors have viewed Pepsi with disdain, trading its shares for a fraction of Coke's multiple (table). While it's a leader in salty-snack food with its Frito-Lay brands, it has remained No.2 in beverages and a dog in the restaurant business.
Eventually, that message got through to management. On Jan. 23, PepsiCo announced it would become more of a true soft-drink play by spinning off its Taco Bell, Pizza Hut, and KFC restaurants into a separate company. The stock jumped 3 1/2, to 35 1/2, on the news. "A year ago, it was clear Pepsi was having problems and Coke was the one you had to be with. Now we're taking a second look at Pepsi," says John Wilson, portfolio manager at State Street Research Investment Trust, which owns 4.7 million Coke shares.
A post-spin-off Pepsi may be worth the extra glance. The move allows management to focus attention and capital on a beverage business that has had, over the past five years, operating margins of about 12.6% and pretax profit growth of 9%. In the U.S., Pepsi holds about a 31% market share, vs. Coke's 43%. Its Mountain Dew brand has enjoyed success, with supermarket volume growing 10% last year. But analysts caution that while the spin-off levels the playing field, Coke and Pepsi operate their beverage businesses quite differently. Unlike Coke, which mainly sells concentrate to independent bottlers, Pepsi owns its bottling and concentrate operations. Analysts say this makes Pepsi more vulnerable to price wars that put pressure on its bottling margins. So when Pepsi announced it would form a separate management unit for its domestic bottling operations, Wall Streeters grew optimistic, figuring the next step is a spin-off. Pepsi says it has no plans to cut loose its bottlers.
But Pepsi still has to face the challenge of its international beverage business. While Coke generates about 70% of its sales abroad, Pepsi's international sales make up only 20% of revenues. And Coke competes fiercely overseas. Last August, Coke successfully wooed Pepsi's Venezuelan bottler, leaving Pepsi with no distribution in a market it had dominated for years. Rather than meet Coke head-on abroad, Pepsi is building aggressively only in emerging markets such as China and India, where Coke's ubiquitous brand name is not as entrenched. "They're taking a more guarded approach, and that's smart," explains K. Timothy Swanson, an analyst for A.G. Edwards.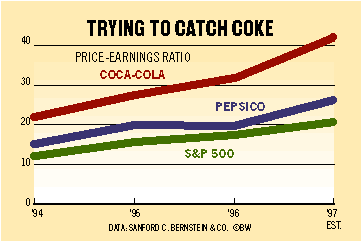 SNACKS. Pepsi investors also get snacks to go with their beverages. The company's Frito-Lay unit, which holds more than 50% of the U.S. snack market, will make up more than half of Pepsi's profits after the restaurant spin-off is concluded by yearend. While the domestic salty snack category has averaged 2.4% volume growth over the past five years, Frito-Lay has managed to expand its volume an average of 9%. A strong distribution system, low manufacturing costs, and successful new products such as Baked Lays potato chips have also cemented its leadership position. Analyst William Pecoriello of Sanford C. Bernstein says Frito-Lay's profits should grow by 12% over the next two years if the planned introduction next May of fat-free potato and tortilla chips runs smoothly.
Despite the good news, Pepsi still has a long way to go to catch up with mighty Coke. But if the stock market declines, investors may not care to pay such a rich premium for Coke's growth. "Coke is a mindless stock, but beware of mindless. At some point, it has to moderate," says John Neff of Wellington Management. To Pepsi's fans, being No.2 means it has room to expand--and a more affordable price.
Before it's here, it's on the Bloomberg Terminal.
LEARN MORE