Canada: Sunny Skies Could Last Into 1998
By
Like the U.S., Canada should enjoy a second-half blend of solid economic growth and low inflation. Canada, however, has more excess labor and capital, which could keep the combination going longer into 1998.
The economy's strength was clear in the June labor report. The jobless rate fell from May's 9.5% to 9.1%, the lowest in two years. And payrolls increased by 51,500. Job growth last quarter averaged 48,700 a month--the biggest quarterly pace in nearly a decade (chart).
Factory jobs, which accounted for most of the June gain, are at their highest level in 7 1/2 years. That reflects a pickup in manufacturing. May factory orders fell only 0.2% after April orders jumped 4.9%. Orders so far in the second quarter stand well above the first-quarter level. With inventories lean, increased orders will have to be satisfied by production gains.
And demand increases are widespread. Exports in the first quarter surged at a 23.2% annual rate, while domestic final sales rose 6.4%. Foreign demand is being lifted by a weak Canadian dollar, which fell 3.5% against the U.S. dollar in the first half. The Bank of Canada moved to reverse that slide on June 26, when it hiked its overnight lending rate by a quarter-point. Since then, the Canadian dollar has risen 1.4%. Even so, Canadian monetary policy is extremely stimulative; short-term rates are nearly two percentage points below U.S. levels.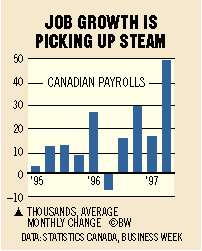 Canada's real gross domestic product grew at a healthy annual rate of 3.4% in the first quarter, and some economists think it can grow as fast as 4% for all of 1997. Meanwhile, consumer inflation remains at the low end of the Bank of Canada's target of 1% to 3%.
The BOC is likely to hike rates again this fall before inflation rekindles. Policymakers at least have the luxury of some slack in Canada's economy. The BOC said a gap of 2.5% existed between actual and potential GDP at the end of 1996. To be sure, that gap could close quickly if growth soars. But for now, output constraints are more likely to be a 1998 problem.
Before it's here, it's on the Bloomberg Terminal.
LEARN MORE