A Backlash Targets Muslim Activists...And The Media Pick Up The Cry
Thomas Goltz
In the polarized atmosphere of Turkey, where ardent secularists are pitted against Islamic activists, a new line has been drawn--in the sand traps of the country's first 18-hole professional golf course. "We have made a conscious decision to try and keep Muslim fundamentalist types from acquiring membership," says Melda Koshar, sales and marketing director at the Klassis Golf & Country Club, a resort set in the rolling hills of Turkish Thrace some 70 kilometers west of Istanbul. "You let them in, and the next thing they'll try and do is turn the 19th hole bar into a mosque."
Golf is fairly new to Turkey, and most players are resident foreign businessmen. The few Turks who have taken up the game are typically from the wealthy elite, much more likely to dash for a raki (Turkish Pernod) than for prayers. But the "No fundamentalists need apply" policy at Klassis is an example of the bitter backlash under way against Muslim activists, especially since the June quasi-coup by the military against the government of Islamist Prime Minister Necmettin Erbakan's Welfare Party and its coalition partner, the True Path Party. Under intense pressure, Erbakan resigned on June 18, and a government led by Mesut Yilmaz was installed a week later.
One charge leveled by the generals is that Islamic activists have infiltrated all walks of life, from institutions of higher education to the officer corps of the army itself. Curiously, the European Commission on Human Rights, often critical of Turkish authorities, appears to agree with the military for once: The case of a colonel who said he was illegally cashiered because he belonged to a Muslim religious order was rejected in June on grounds that military hierarchies have the right to set their own standards of behavior.
NO BEARDS, PLEASE. Business, too, has been targeted. On June 8, the generals announced that some 1,000 "Islamic" companies were blacklisted from military supply and construction contracts. The companies included Ulker Food & Commerce Ltd., the company that makes most of the nation's cookies, as well as huge Kombassan Holding, with interests in everything from marble floor production to solar energy.
The military's lead is being followed on the street corner. Secularist consumer associations are organizing boycotts of grocery stores, newsstands, and even public transportation. "We started taking notes and making lists of people who did not show enough respect for Ataturk [the founder of secular Turkey in 1923], and then faxed the lists around the neighborhood as places to avoid," says one of Istanbul's leading ophthalmologists, who declined to be quoted by name. "I will not even get in a taxi driven by a man with a beard anymore."
The reaction of Muslim activists to all this has been surprisingly calm. The reason could be that while Welfare is out of office, it remains the single biggest party and may even be aided by the quasi-coup. Welfare won points for bowing out in style, thus proving wrong those who said that once in power it would never leave. "The other parties, along with the military, forced us out of office this time," says one young activist. "But what will happen after elections next year when we poll 30% or 40%? That's when it will get interesting."
The Turkish media--especially privately owned TV channels--have been getting on the anti-Islamist bandwagon, too. Star, a popular news channel, recently featured a report on antisecularist diatribes by Shevki Yilmaz, a Welfare Party member of Parliament. Video clips of Yilmaz' rantings about Turkey's becoming a "pagan" state of "totem worshippers" were rated like MTV Top 10 hits, with each clip introduced by a cross-dressing video jockey wearing mascara, lipstick, and a pink frock. Other secularist stations have followed suit, openly mocking the Islamists.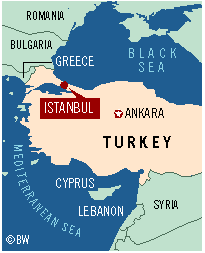 The one private channel known for its pro-Welfare sympathies, "7", owned by the Welfare-run Istanbul municipal government, has stuck to relatively nonpartisan broadcasts--if often tinged with gallows humor as Welfare gets pushed further off the stage. Detailing the most recent waves of "principled" defections from the Welfare/True Path coalition, the channel ran a short feature on the defectors' previous defections. One man was revealed to have shifted party loyalty four times in the past two years--always from a party losing its grip on power to a party apparently on its way to taking the reins. Such cynical moves by its opponents may only add to Welfare's luster.
Before it's here, it's on the Bloomberg Terminal.
LEARN MORE