Rohm: A Most Unjapanese Japanese Chipmaker
It's proving that a Japanese company can succeed by breaking the corporate mold
Steven V. Brull
The surrealist works by Salvador Dali and Marc Chagall that animate the reception room provide the first clue that Rohm Co. is an oddball in the buttoned-down world of corporate Japan. The unusual touches don't stop there. Classical music cascades throughout the company--even in the fabrication plant of this $2.6 billion chipmaker. The plant is sited in central Kyoto, a town known for its temples, not its manufacturing prowess. Meanwhile, Rohm's founder and president, Ken Sato, hands out business cards that sport no title, a startling gesture in a society obsessed by rank. Sato himself works from an office that lacks a PC and is barely bigger than a largish American bathroom.
Amusing quirks, but something deeper is going on at Rohm. At a time when most of Japan is still mired in recession and many companies are still groping for a way to improve their poor profits, Rohm is producing standout results. Profits jumped 19% in the latest fiscal year, to $399 million, and the stock has far outperformed the lackluster Nikkei, jumping 87% in the last 12 months, to $104 a share. Foreign investors are so enthusiastic about Rohm's prospects that they now own 44% of the company's shares, the highest ratio among Japan's listed companies. Rohm is also one of the Seven Samurai, the name bestowed by brokers on Japan's best performing stocks. (The others are Sony, Toyota, Honda, Canon, TDK, and Hoya.)
Rohm's success is proof that Japanese companies can succeed by breaking the mold of traditional corporate behavior. Sato, who started the company in 1958 after reluctantly abandoning his dream of becoming a professional pianist, has spurned many of Japan's management practices, which stress teamwork and the pursuit of sales over profits. Instead Sato, now 66, has crafted a company that values margins more than market share and rewards top performers with bonus pay. It's even big on corporate philanthropy, an abnormal practice in Japan. In 1991, Sato donated 6.6 million shares--now worth some $670 million--to set up a foundation to support classical music in Japan. While giants such as Toyota, Sony, and Toshiba are just starting to dabble in such practices as stock options, it was Rohm that showed them such Western approaches can work in Japan.
Sato started his company with a resistor he designed as a university student. Early on, he chose not to follow--and not to compete against--NEC Corp., Toshiba Corp., and other giant Japanese semiconductor makers who have committed huge amounts of capital and technology to the high-stakes game of making memory chips. Instead, Rohm has focused on custom chips and discrete devices such as the semiconductor lasers used to read CDs--one of several components in which Rohm has the world's top share.
Rohm has also secured its neutrality in the electronics industry by not branching out into finished products such as televisions and PCs. As a result, Rohm can sell its chips to both Matsushita Electric Industrial Co. and Sony Corp.--even though these companies are fierce rivals. "Rather than the mainstream, I prefer to swim by the banks of the river," says Sato. "The electronics industry is so big there's still lots there to feed off."
MASS FIRING. Yet Rohm has also made some mistakes. In the 1980s, when the company was managed more traditionally, it suffered from poor margins and unfocused product lines. The basic problem, Sato says, was that salesmen were driving company policy. Ever keen to maintain client relationships, they agreed to sell at prices below industry averages--and often below costs. "They were their customers' doormat," says Steven W. Myers, an analyst at Jardine Fleming Securities in Tokyo.
By 1991, as aftertax net profit margins dipped to 2.9%, Sato fired half of the 12-member management board. From now on, he declared, manufacturing execs would be in control. They would set prices based on production costs. If customers balked, they could walk. Despite grumblings, few defected. "I expected sales to drop by 20%, but the fall was only 2%," Sato said.
The reforms have helped the company through a recent rough patch. Because of an industrywide slump in chip sales, in the fiscal year ended Mar. 31, Rohm's revenues grew just 1.9%, to $2.6 billion. However, increased production in Southeast Asia and a shift to more profitable custom chips for PCs and telecom gear helped the company's net profit jump. Hideki Wakabayashi, an analyst at Nomura Research Institute, estimates Rohm's sales will grow by an average of nearly 20% annually over the next three years as earnings per share expand by more than 10%.
Sato has also used Rohm's compensation system to coax more out of his executives and workers. Salary can vary by up to 50% based on performance--several times the ratio granted by Japan's traditional age-based schemes. And to reward workers who make strong contributions to Rohm's bottom line, Sato hands out President's Prizes. Last year, these totaled $2.2 million and three employees out of 750 winners pocketed $88,000 each. In a group-oriented society, these winners feel pressure to share the money with co-workers. However, Sato frowns upon such generosity: "It's a reward for individual accomplishment, so I tell them to share it only with their wives."
The incentive system has paid dividends. In 1994, Rohm devised a better way to manufacture FRAMs (ferroelectric random-access memory chips), which retain data without recharging, unlike most memory chips. This achievement opened the door to a cross-licensing agreement with Ramtron International Corp., a Colorado concern that holds many basic patents for the chips, which are expected to grow into a market worth billions by 2000. Rohm will focus on such niche applications as FRAMs embedded into electronic money cards, luggage tags, and passports.
Not all roads lead to Rohm. The growing dominance of digital electronics is a challenge to a company whose traditional strength has been in analog circuits. Now that PC-related products are key to growth, Rohm concedes that it needs to beef up marketing efforts in Silicon Valley.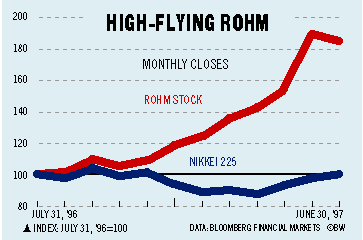 BUYBACK? The large contingent of foreign shareholders also has a downside for Rohm. Aside from sokaiya, or corporate extortionists, Japanese shareholders make few demands on corporate managements to boost share prices. Foreign investors are delighted with Rohm's focus on profits. However, the foreigners also want Rohm to use some of the $1.5 billion the company holds in cash and securities to raise dividends and buy back shares. "They could do a lot for shareholders if they chose to," said Myers.
Sato may not be ready yet for a big share buyback, but give him credit: He's done a lot more for shareholders than most Japanese corporate chiefs. So the chances are that this very private man will be able to pursue his own quirky way of managing. And nobody will complain that he dislikes public speaking so much that he invariably declines to attend the President's Award ceremony--or that he leaves work at 4 p.m. and tells his chauffeur to crank up the volume for the drive home.