Diametrics Looks More Red Blooded
By
When Jim Steiner of Minneapolis' IAI Mutual Funds bought Diametrics Medical (DMED) shares at 4 in March, he figured the stock was undervalued by 50%. He was only half right. The stock zoomed to 9 1/4 in late June. By July 8, the stock had settled back to 8 3/4, but several investors think the stock will continue to climb.
Christopher Tihansky of Genesis Merchant Group thinks it will hit 16 in a year. Why is Diametrics so hot?
"The company will be big in the $2 billion point-of-care blood-analysis market," says Tihansky, who sees the company in the black by 1999, when he expects it to earn 18 cents a share.
Diametrics' first product is a portable blood-gas analyzer. It lets health-care providers evaluate a patient's blood-gas chemistry at the bedside. The operator draws a sample of blood. In 90 seconds, results are displayed on a liquid-crystal screen, with a hard-copy printout. Diametrics' other key product, called Paratrend 7, allows continuous monitoring of blood gas.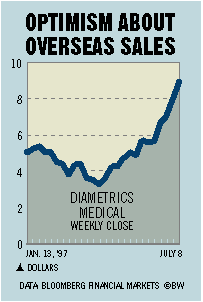 Chiron, a major biopharmaceutical house that has an agreement to market Diametrics' products in Japan, is expected to broaden the scope of its alliance. Chiron will widen distribution of Immediate Response Mobile Analysis and Paratrend 7: In Asia, Chiron will market the products in China, Hong Kong, India, Korea, Malaysia, Singapore, and Taiwan. In Europe, Chiron will sell them in France, Portugal, and Spain.
"The potential of the broadened pact with Chiron is tremendous," says one insider. "It not only opens up new markets but also bolsters the Chiron-Diametrics link," he says. The new pact will hasten the growth of sales, he adds.