business
Business Week Index
The production index continued to gain ground during the week ended June 21.
Before calculation of the four-week moving average, the index increased to
122.7, from 122.1 in the previous week. On a seasonally adjusted basis, output
of autos and trucks rose sharply, and increases were also reported in electric
power and steel output. Crude oil refining, coal, and lumber production and
rail-freight traffic declined.
BW production index copyright 1997 Bloomberg L.P.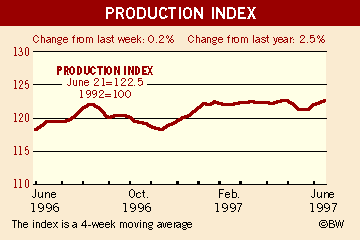 PRODUCTION INDICATORS
                                             LATEST        WEEK      YEARLY
                                              WEEK          AGO       % CHG
      
      STEEL (6/28) thous. of net tons          2,043       2,149 #     2.9
      AUTOS (6/28) units                     114,618     133,415 r#  -14.5
      TRUCKS (6/28) units                    121,088     130,007 r#    8.2
      ELECTRIC POWER (6/28)
         millions of kilowatt-hrs.            72,792      67,042 #     2.9
      CRUDE-OIL REFINING (6/28)
         thous. of bbl./day                   14,988      15,052 #    4.3
      COAL (6/21) thous. of net tons          19,448 #    20,428      0.4
      LUMBER (6/21) millions of ft.            485.7 #     516.3      2.9
      RAIL FREIGHT (6/21)
          billions of ton-miles                 26.1 #      26.4      2.0
      
      Sources: American Iron & Steel Institute, Ward's Automotive Reports, Edison 
      Electric Institute, American Petroleum Institute, Energy Dept., WWPA1, SFPA2, 
      Association of American Railroads
      
      LEADING INDICATORS
                                                LATEST       WEEK      YEARLY
                                                 WEEK         AGO       % CHG
      
      STOCK PRICES (6/27) S&P 500                887.30       898.70     32.3
      CORPORATE BOND YIELD, Aaa (6/27)             7.36%         7.33%   -3.9
      INDUSTRIAL MATERIALS PRICES (6/27)          106.2        105.9      0.0
      BUSINESS FAILURES (6/20)                       NA           NA       NA
      REAL ESTATE LOANS (6/18) billions              NA           NA       NA
      MONEY SUPPLY, M2 (6/16) billions         $3,911.1     $3,910.0 r    4.4
      INITIAL CLAIMS, UNEMPLOYMENT (6/21) thous.    332          346     -6.2
      
      Sources: Standard & Poor's, Moody's, Journal of Commerce (index: 1990=100), 
      Federal Reserve, Labor Dept.
      
      PRICES
                                              LATEST      WEEK      YEARLY
                                               WEEK        AGO      % CHG
      
      GOLD (7/2) $/troy oz.                   332.200    338.450    -13.0
      STEEL SCRAP (7/1) #1 heavy, $/ton        138.50     138.50      0.0
      COPPER (6/27)  cents/lb.                  116.7      124.1     17.5
      ALUMINUM (6/27)  cents/lb.                 75.3       75.6      7.6
      COTTON (6/28) strict low middling
         1-1/16 in.,  cents/lb.                 72.19      71.15     -7.0
      OIL (7/1) $/bbl.                          19.83      18.47     -6.9
      CRB FOODSTUFFS (7/1) 1967=100            237.49     241.95    -14.5
      CRB RAW INDUSTRIALS (7/1) 1967=100       335.36     335.36      1.0
      
      Sources: London Wednesday final setting, Chicago market, Metals Week, Memphis 
      market, NYMEX, Commodity Research Bureau
      
      FOREIGN EXCHANGE
                                               LATEST      WEEK    YEAR
                                                WEEK        AGO     AGO
      
      JAPANESE YEN (7/2)                       114.41     114.03   110.13
      GERMAN MARK (7/2)                          1.75       1.73     1.53
      BRITISH POUND (7/2)                        1.67       1.66     1.56
      FRENCH FRANC (7/2)                         5.91       5.82     5.16
      ITALIAN LIRA (7/2)                       1705.8     1683.5   1535.5
      CANADIAN DOLLAR (7/2)                      1.38       1.39     1.36
      MEXICAN PESO (7/2)3                       7.947      7.940    7.583
      TRADE-WEIGHTED DOLLAR INDEX (7/2)         103.7      103.4     98.0
      
      Sources: Major New York banks. Currencies expressed in units per U.S. dollar, 
      except for British pound in dollars. Trade-weighted dollar via J.P. Morgan.
      
      INTEREST RATES
                                                LATEST     WEEK      YEAR
                                                 WEEK      AGO        AGO
      
      FEDERAL FUNDS (7/1)                        6.24 %    5.39 %    7.80 %
      COMMERCIAL PAPER (7/2) 3-month             5.64      5.63      5.50
      CERTIFICATES OF DEPOSIT (7/2) 3-month      5.67      5.66      5.45
      FIXED MORTGAGE (6/27) 30-year              7.81      7.81      8.49
      ADJUSTABLE MORTGAGE (6/27) one-year        5.88      5.87      6.11
      PRIME (6/27)                               8.50      8.50      8.25
      
      Sources: Federal Reserve, HSH Associates, Bloomberg Financial Markets
      
      #Raw data in the production indicators are seasonally adjusted in computing the 
      BW index (chart); other components (estimated and not listed) include machinery 
      and defense equipment. 1=Western Wood Products Assn.   2=Southern Forest 
      Products Assn.    3=Free market value   NA=Not available   r=revised   NM=Not 
      meaningful