U.S.: Summer's Pleasant Surprise: Sizzling Exports
Growth in key U.S. markets is looking better and better
by
That ray of sunshine starting to emerge from the U.S. trade balance is coming from exports. After languishing at a single-digit growth rate for most of last year, shipments headed overseas are surging once again. Stronger foreign demand for aircraft, machinery, and other wares is being fueled by improving growth abroad that more than offsets any loss of competitiveness suffered from last year's rise in the dollar.
The new energy in exports means that trade is shaping up to be less of a drag on U.S. growth this year than previously expected. In the second quarter, for example, stronger foreign demand is a key reason why manufacturing orders and output remain so buoyant, despite the slowdown in U.S. consumer spending. Imports continue to pour ashore, but unlike last year, exports will provide a buffer against any further deterioration in the trade deficit.
The latest trade data show a much smaller-than-expected deficit for April. The deficit of goods and services stood at $8.4 billion that month, up from $7.8 billion in March but well below the first-quarter average deficit of $9.7 billion. For April, exports increased to $78.4 billion, led by gains in industrial machinery, communications equipment, and aircraft parts.
Imports posted a bigger gain, however, rising to $86.7 billion with growth dominated by apparel, toys, and sporting goods. The pause in consumer spending means that some second-quarter easing in import growth is likely, but any slowdown in the demand for foreign goods will not last. Domestic demand appears set to rebound in the second half, especially given the latest exuberant readings on consumer confidence.
BUT THE BIG NEWS from the trade front is exports. Although foreign demand for services is picking up, the sharpest acceleration has been in exports of goods (chart). Adjusted for inflation, shipments over the past three months are up 16% from the same period a year ago, the fastest such pace of this six-year expansion.
What goods are feeding the export revival? Not your usual suspects of farm products and computers. In fact, exports of agricultural goods have been falling sharply since the end of last year. And while shipments of high-tech goods are growing at double-digit rates, the acceleration of low-tech capital equipment, such as industrial machinery, is more impressive. After posting negative growth rates in mid-1996, these exports have come roaring back so that in the last three months, low-tech exports have been growing slightly faster than their high-tech counterparts.
Increased shipments of textiles and pharmaceuticals have helped push the growth rate for consumer-goods exports back into double-digit territory, as well. Also, car exports have picked up, rising 22% in the 12 months ended in March and April. That strength reflects robust demand from car buyers in Mexico and Canada, which is helping to buoy the third-quarter outlook for U.S. auto production.
Despite auto strikes this spring, which depressed overall orders and output in manufacturing, exports are helping to keep orders on a rising trend. Although bookings for durable goods fell 0.6% in May, orders excluding transportation equipment rose slightly, and because of a strong April increase, the quarterly average is running well above that of the first quarter.
THE LATEST EXPORT DATA are cheerier than economists expected in late 1996. Back then, the strengthening dollar and the gloomy outlooks for Europe and Japan cast a pall over prospects for exports in 1997. However, growth in key U.S. markets is now looking decidedly upbeat, especially close to home (table).
Exports to both Canada and Mexico, which account for 33% of U.S. goods shipments, have accelerated sharply during the past year, as have exports to most Latin American ports. Mexico's economy, rebounding from its 1995 peso crisis, grew 5% last year, and 4% growth is generally expected for 1997. Growth in Canada, also expected to approach 4% this year, is likely to be the fastest of the major industrialized countries.
The biggest surprise, however, is Europe. The British economy's strength will last, and while growth on the Continent has been held back by the fiscal restraint required for the move toward a single currency, industrial activity is picking up, as is business investment, and thus demand for capital goods. In the final four months of 1996, U.S. exports to Western Europe had grown only 1% above the year-earlier level. But in the first four months of 1997, annual growth shot up to 10.2%.
The current weak spots in the export picture are Japan and the Pacific Rim generally, where various problems involving currency weakness, capital flight, and banking-system woes have curbed demand. U.S. exports to Japan are actually falling. Domestic demand in Japan is currently stifled by a round of higher taxes, as the country tries to rein in its past fiscal excesses.
IMPORTS, HOWEVER, WILL REMAIN the blight on the U.S. trade horizon. Real exports may be up a stellar 16% from a year ago, but imports match that pace, and they're about one-fourth larger than exports.
Surging imports have a bright side, though. The strongest anti-inflation force at work this past year has been import-price deflation. The flood of imports, which account for one-fourth of all nonoil goods bought in the U.S., has been abetted by the dollar's two-year rise. That helped push nonoil import prices down by 3.3%, and cheap imports deter U.S. producers from hiking prices. But with the dollar's rise now over, those inflation checks won't be as strong in the second half.
Looking ahead, import growth will remain strong because consumers believe more and more in this expansion's ability to generate job opportunities and bigger paychecks. And that confidence is leading to a bounceback in household spending.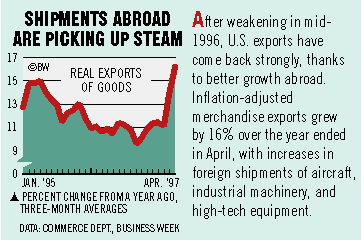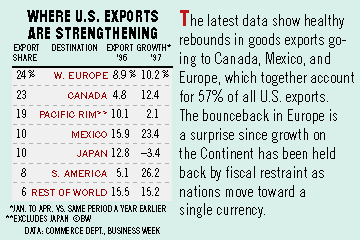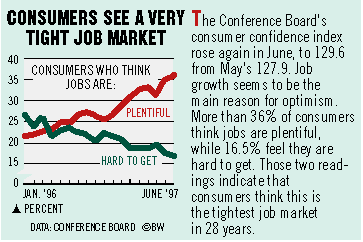 The Conference Board's index of consumer confidence jumped to 129.6 in June, on top of a stunning nine-point increase in May, to 127.9. Confidence is at its highest since August, 1969. Although the soaring stock market is partly responsible for the upbeat mood, jobs seem to be the primary catalyst. The Board reports that 36% of households consider jobs plentiful, while only 16.5% think they are hard to get (chart). Those two readings indicate that consumers think this is the tightest labor market in 28 years.
The return of the consumer will likely be the keynote of the third-quarter economic data. But the changing trade outlook should not be ignored. Rising domestic demand means that imports--and their deflationary pressures--will not go away. And the sunny outlook for exports means that U.S. manufacturers will be able to keep their factories going full-tilt, providing gains in output and payrolls in the second half.
Before it's here, it's on the Bloomberg Terminal.
LEARN MORE