Shopping Mercantile Again
by
Last year, Mercantile Stores (MST) glowed red-hot in the rumor mills: Buyout talk drove the stock from 45 to 64 in three months. No deal came through, and it sagged to the low 50s by June. Now Mercantile, with 102 department stores in 50 states, is back on the screens of buyout pros, who reckon at least two suitors are set on acquiring the company--at a higher price.
One New York banker says Federated Department Stores has put an informal $75-a-share bid on the table. The stock is trading at 56. But management rejected the offer, saying the company, which one analyst calls a "high-quality gem," is worth more.
He is sure Federated will come back with a sweetened offer, possibly $80 to $90 a share, because another interested party, May Department Stores, may beat it to the punch. May has yet to throw in a bid, he adds.
A New York investment manager says the directors--led by the Milliken family, which controls 40% of Mercantile--think the shares are worth $100. The company, with sales of $3.03 billion in the year ended Jan. 31, 1997, is expected to produce sales of $3.3 billion in fiscal 1998.
Two factors argue that a friendly deal could indeed be in the works: Roger Milliken, a board member and head of the family--who long opposed any sale--is in his mid-70s. Some say he would now consider selling "at the right price." If true, then the two other Millikens on the board--Gerrish, a brother of Roger, and Minot, a cousin--will probably go along.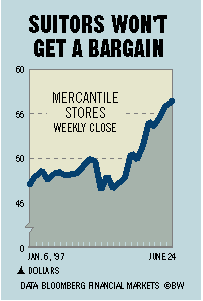 The other reason for optimism about a buyout: Mercantile, whose balance sheet is healthy with a strong cash flow, has not been a spectacular performer--with core earnings growth of just 8% to 10%. Profits in 1997 slipped to $3.30 a share, down from $3.35 a year before. In 1998, analysts expect $3.78. "In the hands of more aggressive management, Mercantile could be propelled to improve its lackluster performance," argues one analyst. Federated or May would benefit, he says, from Mercantile's reach in the South and Midwest.
Analyst Karen Sack of Standard & Poor's says Mercantile has talked mergers for years. It terminated talks with an unidentified buyer in November, 1994. Although Sack thinks the stock is fairly valued, she recommends it because she says a merger "is still a possibility." Mercantile didn't return calls and the Millikens couldn't be reached for comment. Federated and May declined comment.
Before it's here, it's on the Bloomberg Terminal.
LEARN MORE