Set To Spar In Nonlatex Gloves
By
Since Maxxim Medical (MAM) acquired another company last year in a hostile takeover, CEO Ken Davidson makes no bones about his next goal: He will work on boosting the price of Maxxim stock, which dived to 12 a share on the news, down from 20 earlier last year. Apparently it isn't enough, he says, to post record sales and earnings. Maxxim is the largest U.S. maker of nonlatex medical gloves and clinical-procedure trays.
First thing Davidson did was commit senior managers to buy 400,000 shares, or 5%, of Maxxim stock, at $13 apiece, or $5.2 million, financed by the company through personal loans. It shows confidence, notes Davidson. The stock has since edged up to 15.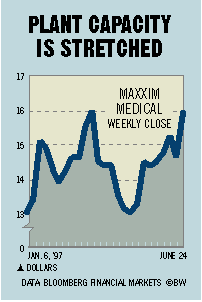 Also on his agenda: increasing production capacity for nonlatex gloves. Press reports about the dangers of latex gloves and lawsuits by people allergic to them have sparked demand. Maxxim Medical, which has 60% of the market, makes 6.8 million nonlatex gloves a day--and sells as many as it can turn out. As a result, Maxxim has raised the price of its powder-free SensiCare gloves.
"Gloves will make Maxxim a growth-stock play," says Gregg Summerville, chief investment officer at Kirr Marbach in Columbus, Ind. He figures Maxxim will earn $1.30 a share in the year ending Oct. 31, 1997, and $1.70 in 1998. In 12 months, he sees the stock doubling, to 30.
Before it's here, it's on the Bloomberg Terminal.
LEARN MORE