One Currency, One Tax? Don't Bet On It
Business wants reform, but it is up against entrenched foes
William Echikson
The European Union has long boasted about its single market, and its single currency will be something to crow about. But Europe holds no bragging rights when it comes to its chaotic tax system, which business says is a killer. On value-added tax alone, the 15 EU nations still have more than 200 different rates. Levies on cars range from 213% in Denmark to just 15% in Germany. So a Mercedes E200 that sells for about $33,500 in Germany costs $90,500 in Denmark.
After whining for years, companies are fighting back. A group of Europe's biggest multinationals, from Philips Electronics to British Petroleum Co., are mounting a lobbying campaign through the European Employer's Assn. (UNICE). And for the first time, the European Commission has a tax-reform committee with top level delegates from all the EU nations' finance ministers. On June 20, it produced a draft code for tax coordination. "Until last summer, no one here even talked about taxes. Now, at least the problem is recognized," says UNICE economist Stephane Van Tilborg.
UNICE's tax-reform committee aims to bully Brussels bureaucrats into creating a single European corporate tax return. Such a move potentially could cut corporate taxes dramatically if companies were allowed to consolidate profits and losses across 15 countries. Unlike U.S.-based companies, the Europeans often don't get credits for foreign taxes paid. The present system, complains Unilever PLC's senior tax manager, Jan van der Bijl, "puts us at a tremendous disadvantage against U.S. multinationals with one federal American tax."
Pressure from business and consumers for a single set of tax rules is mounting because of the planned single currency. The euro, scheduled for introduction on Jan. 1, 1999, will spotlight gaping tax anomalies. Huge price differences for the same product in different countries are obscured by the present exchange-rate jungle. With the euro, though, consumers will find it easier to compare prices across borders and cold-shoulder high tax areas. "Governments won't be able to hide their taxes any longer," says Bengt Ekelund, Eastman Kodak Co.'s European director of government affairs.
BAG OF TRICKS. Companies and other would-be tax reformers, however, face fierce resistance. National governments are intent on jealously guarding their tax-raising rights. At their early June Amsterdam summit, EU heads of government rejected a modest proposal from Brussels to allow majority voting in the Council of Ministers, instead of the present unanimity requirement, on Europe-wide tax questions. "Every country is afraid to lose its power to raise money," says UNICE'S Van Tilborg.
Other national vested interests are at stake, too. Each European country has its own tax tricks, often to protect or offer sweet deals to national champions. Italy allows income-tax deductions for corporate purchases of Fiat's small cars, though not for Chrysler Corp.'s large jeeps or minivans. "It's bad enough that taxes are high in Europe. It's even worse that [they] are arbitrary, complicated, and discriminatory," complains Lino Piedra, a Chrysler vice-president.
Europe's attempts at social engineering by taxing essentials much more lightly than luxuries create nightmares for business. The French tax code, for example, lists 10 different types of chocolate and 15 types of wood and paper, all taxed at different rates. Taxes on fertilizers in Denmark are five times the French level.
SMUGGLERS ABOUND. The criteria and rates for excise, labor, and corporate taxes also vary from country to country. The temptation to avoid taxes is overwhelming when hard liquor, for instance, is taxed at $2 a bottle in Italy and $18.68 in Sweden. The result is "massive amounts of cross-border shopping and smuggling," complains Chris J. Scott-Wilson, director of European affairs at Guinness PLC.
Huge differences in social taxes also are killing much-needed jobs. Add-on costs for hiring a temporary secretary, for example, range from 10% in Britain to 85% in France and 116% in Austria. Governments, though, are impervious to pleas from business to level the playing field. "After all, [companies have to] hire English workers in England and French workers in France," says Roy Broughton, a senior vice-president at Adecco, one of Europe's biggest temp agencies.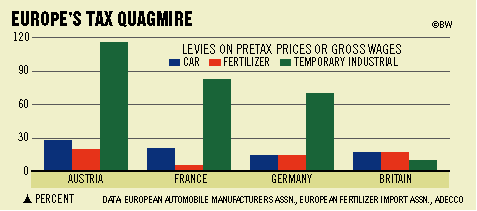 Of course, the drive for tax harmonization could backfire. The risk is that taxes would be leveled up rather than just leveled out, as business wants. Some disturbing signs already are in evidence. European Taxation Commissioner Mario Monti, for example, has vowed to punish countries that try to attract foreign investment by cutting tax rates.
Even so, for most businesses, a single Brussels tax code would be better than the present chaos. The European Commission is moving slowly because it knows that its political masters in the various capitals will resist. But until Europe can escape the tax mire, its much-vaunted single market will not be truly single.
Before it's here, it's on the Bloomberg Terminal.
LEARN MORE