More Than A Speed Bump At Chrysler?
Probably not. But as sales slip, CEO Eaton is taking no chances
Bill Vlasic
The second quarter of 1997 will not be one that Chrysler Chairman Robert J. Eaton will remember fondly. Sales dropped 11% in April and 17% in May. Analysts predict as much as a 10% dip in June. The company's U.S. market share slipped to 14.6% in May, from 16.5% a year earlier. Because of a month-long engine-plant strike and slow sales, Chrysler's second-quarter profits will be about $500 million--half of what it earned the same time last year.
Without a doubt, the hottest auto maker in Detroit has hit a speed bump. After smashing several sales and profit records since late 1995, Chrysler has lost its Midas touch. Even its most popular vehicles--Ram pickups, Dodge minivans, and Jeep Grand Cherokees--are slipping. Rams are in an outright slump. Eaton, who is downbeat about the U.S. market, is not expecting a quick recovery, despite high hopes for new models. "The market out there is not as strong as even the numbers would indicate," he says.
As a result, Eaton is falling back on Chrysler's cost-cutting skills, ordering $1 billion in cuts. He laid on a hiring freeze and told Chrysler executives to reevaluate every expense that doesn't affect product quality. Chrysler's future product plans are undergoing more scrutiny than ever, with two anticipated new models--the Jeep Dakar sport utility vehicle and the Dodge Copperhead--still under review by top management.
Chrysler execs concede that last year's record-breaking run led to a bit of complacency. Budgets were stretched with new hires, outside consultants, and inflated travel expenses. "Everybody starts saying `yes' to marginal things they wouldn't say `yes' to in marginal times," says one Chrysler official.
Chrysler's more difficult problem is a lack of new products. "Some of the models are just getting older," says James M. McInerney, a Dodge dealer in suburban Detroit. The Ram, which faced supply problems because of the engine-plant strike, lost sales to the newer F-Series pickup from Ford Motor Co. Stalwarts such as the Grand Cherokee--which gets redesigned next year--now seem passe compared with newer sport utility vehicles from Ford, Toyota, and Honda.
"RECESSION MODE." Chrysler's biggest weakness is in passenger cars, where Japanese rivals are strongest and Chrysler's share is less than 10%. Even rebates have not spurred sales of its JA-model sedans--Chrysler Cirrus, Dodge Stratus, and Plymouth Breeze. The subcompact Neon is also underperforming.
The Chrysler lineup will get some new talent this fall: redesigned Chrysler Concorde and Dodge Intrepid sedans and a new Dodge Durango sport utility. The Ram-resembling Durango looks like a strong contender. It has three rows of seats like the big Ford Expedition and General Motors Corp.'s Suburban, but a lower price tag.
To launch these vehicles, Chrysler is going ahead with commitments to add engine and transmission capacity and to retool assembly plants in Ontario, Canada, and Newark, Del. In fact, Chrysler also recently decided to proceed with the replacement of Jeep's aged Toledo factory.
In the short term, Chrysler--and its rivals--are fighting the surging Japanese with discounts. Eaton has raised average per-vehicle incentives, such as rebates, to $975 from $705 in the first quarter. "There's no question that incentives are carrying the market," he says.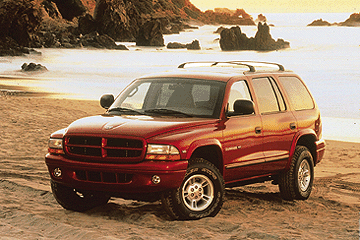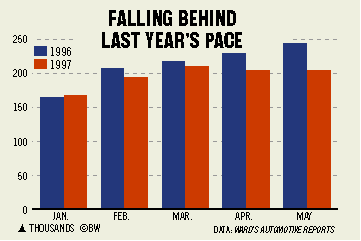 Wall Street sees Chrysler's detour as temporary. Its stock--along with that of other car companies--has underperformed the market, holding at about $32. But analysts figure Chrysler will earn close to $3 billion on revenue of $60 billion this year, compared with $3.5 billion on sales of $61.4 billion in 1996. Essentially, Chrysler is "going into a recession mode without having a recession," says David Healy, an analyst at Burnham Securities Inc. But Eaton has said he wants to be the first Chrysler CEO not to preside over a comeback. To succeed, he has to avoid a real downturn.
Before it's here, it's on the Bloomberg Terminal.
LEARN MORE