Japan: Businesses Still See A Frail Recovery
Japan's most comprehensive and closely followed economic report indicates that the recovery remains fragile, especially for small businesses, the country's major employers.
The June 25 Bank of Japan's quarterly Tankan Survey showed diverging outlooks from manufacturers and service companies. The top-line sentiment index for large manufacturers rose to 7 from 2 in the first quarter, meaning optimists outnumbered those expecting growth to slow. But the worries of smaller nonmanufacturers are mounting (chart). The gulf is also evident in expectations for the economy and for capital spending plans.
Construction companies have taken a big hit because of Japan's weak housing sector and the cuts to public-works spending initiated by Tokyo to close the widening budget gap. In addition, service companies including distributors and retailers are hurting from a weak consumer sector. They are also being squeezed by large manufacturers who must cut costs to compete globally.
Preceding the Tankan by about a week was the Ministry of Finance's business sentiment index survey. The BSI showed a steep drop in businesses' view of current economic conditions. However, the BSI survey also said that companies expected a pickup in the third-quarter economy. That suggests that the Apr. 1 hike in the value-added tax is only temporarily hurting spending.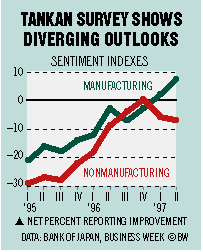 One reason for the split in confidence reflected in the Tankan is that exports of large manufacturers are booming, thanks to the weak yen. In May, exports surged a surprising 20.5% from a year ago, while slow domestic demand meant that imports rose just 6%. As a result, the trade surplus soared to 738 billion yen ($6.4 billion) in May, from 229 billion yen a year earlier. The vast widening in the trade surplus already has spurred new trade tension between Japan and the U.S. That's unlikely to go away, especially since the Tankan shows that businesses still seem to see only slow growth prospects at home.
Before it's here, it's on the Bloomberg Terminal.
LEARN MORE