In Bonds, The Junkier The Better
Investors are stampeding to high yield. But are they setting themselves up for a fall?
Jeffrey M. Laderman
It's one of the supreme ironies of today's markets. Equity investors, usually thought of as risk-takers, keep pouring money into blue chips such as General Electric Co. and Coca-Cola Co. while giving short shrift to second- and third-tier stocks. Yet bond investors, generally thought to be risk-averse, are taking a dim view of blue-chip bonds, such as U.S. Treasuries. Instead, they are snapping up the debt issued by those second- and third-tier companies: junk bonds.
The junk or "high-yield" bond market is on a roll not seen since the 1980s, when Michael R. Milken ruled the market from Drexel Burnham Lambert Inc.'s Beverly Hills trading room. So far this year, new issues top $48 billion, and there's little doubt that 1997 will set a record. Investors, too, are rushing into high-yield mutual funds at breakneck speed. Sure, as long as the economy stays robust, the junk market should thrive as companies meet their debt service. But should economic growth slow sharply, many junk issuers may find it hard to make good to bondholders. "For three percentage points over Treasuries, is it worth the risk?" questions money manager Joel Unger of New York-based Stralem & Co.
Many folks think it is. For beleaguered fixed-income investors, junk has been one of the few places they could make money. "Everyone who's bought into the market for the last few years has outperformed all but emerging-markets debt," says Bennett J. Goodman, a managing director at Donaldson, Lufkin & Jenrette Inc., the No.1 junk underwriter. "And you don't have as much volatility as you have in emerging markets." Kingman D. Penniman, whose firm, KDP Investment Advisors Inc., specializes in junk-bond research, suspects equity investors are buying high-yield as a hedge. "They figure high-yield bonds may not get hit as hard if the market takes a fall."
Junk bonds look every bit as pricey as the Dow Jones industrials. The Merrill Lynch High-Yield Master Index of some 800 issues hit a new high of 451 on June 23--the day the Dow took a 192-point dive. But the real measure of this market is not price but the difference in yields between that index and a 10-year Treasury bond. On June 23, that difference was a mere 2.75 percentage points, up from 2.61, the low in the spread--and the high-water mark for the junk-bond market. That puts the yield on the average junk bond at 9.17%. In late 1990, with the economy in recession and junk bonds suffering through a severe bear market, that spread was over 9 percentage points and the average yield hit 17%.
RELAXED STANDARDS. Many analysts believe that junk bonds are a buy despite the niggardly premium over Treasuries. "It's not too narrow a spread considering that the economy is strong, there's plenty of liquidity, and default rates are at an all-time low," says Martin S. Fridson, global high-yield strategist at Merrill Lynch & Co. "The problem comes when those conditions change."
No one knows when that will happen, but there's no doubt the high-yield market is already sowing the seeds of its next downturn. In reaching for yield, investors are relaxing credit standards in ways they may come to regret. James Parrish, a managing director at Moody's Investors Service, says 27 new issues have come to market this year with Caa ratings--which is a near-default rating--the same number as in all of last year. "When you count the unrated bonds that will later get rated Caa or lower, that figure is probably going to be a lot higher."
Companies, many of them little-known and inexperienced, are tripping over themselves to bring new bonds to market. Increasingly, they're taking advantage of Securities & Exchange Commission Rule 144A as a shortcut through the registration and disclosure maze if the deal is sold only to institutional investors. About two-thirds of the new issuance is in 144A deals.
Companies are benefiting from strong investor demand, which is keeping interest rates low. Net cash inflows to high-yield bond funds are running at an annualized rate of $16 billion, a hefty sum considering that the entire high-yield mutual-fund market is only $85 billion, notes Robert Adler of AMG Data Services, which tracks cash flowing to mutual funds. Junk-bond funds are the only sort of bond mutual fund that has been taking in any new cash over the last three years. And by far, junk bonds are the principal method individual investors use to enter this market.
Pension funds are also turning to junk. Two large New York City pension funds that together have nearly $13 billion in assets recently boosted their high-yield bond investments from 3% to 5% of assets, and trustees of a third fund recently voted to follow suit. "We call it an `enhanced yield,"' says Jon Lukomnik, a spokesman for the New York City comptroller's office, explaining that the funds invest only in higher-grade junk bonds with BB and B ratings. "High-yield bonds have a place in a large portfolio, about 5% of assets," says Steven L. Nesbitt, senior vice-president of Wilshire & Associates Inc., a pension-fund consulting firm. Over a five-year horizon, says Nesbitt, high yields can add about 2 percentage points a year over investment-grade bonds.
Even blue-chip-grade investors are competing with traditional high-yield investors for junk bonds by investing in collateralized bond obligations (CBOs). In effect, a CBO is a closed-end bond fund for institutional investors. It carves up the cash generated by a portfolio of junk bonds and issues securities backed by that cash. By overcollateralizing the securities, the CBOs are able to obtain investment-grade ratings.
DANGEROUS MOMENTUM. Portfolio managers of high-yield bond funds bemoan the ever-shrinking spreads and deteriorating quality of the bonds. But they buy bonds nonetheless because that's what their investors expect them to do. "We've been saying for a long time that spreads are too tight, but you can't fight the flows," says Harry Resis, portfolio manager of the Kemper High-Yield Fund. "The key to this market is not to get lazy about your [credit] research." Resis says there's so much momentum--new bonds trade at a premium in the aftermarket--that many players buy them to trade for a quick profit without regard to quality.
And some managers complain, too, that in the quest for yield, investors ignore terms that favor issuers. D. Jerry Paul, portfolio manager of the Invesco High-Yield Fund, gripes about "clawback" provisions found in bonds issued by private companies. The clawback says if a company goes public within a certain time, usually three to five years, it can use the proceeds to call a certain percentage of the bonds. What's wrong with that? "An IPO is positive news, which should send the bond price higher," he says. "But with clawbacks, bond investors don't get the benefit of that." The clawback is "clearly advantageous to the company," says DLJ's Goodman. But he says buyers are willing to go along if the yields are high enough.
Perhaps more troubling, say some, is the growing number of speculative offerings in the telecommunications and media industries, which account for about 30% of the high-yield market. Companies such as Globalstar and Iridium Inc. have issued or plan to issue bonds to fund low-earth-orbit satellites (LEOS) for wireless phone service--which competes with cellular and personal communications services (PCS), also the source of much high-yield debt.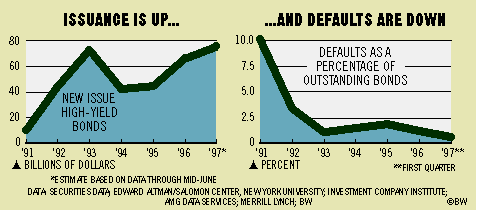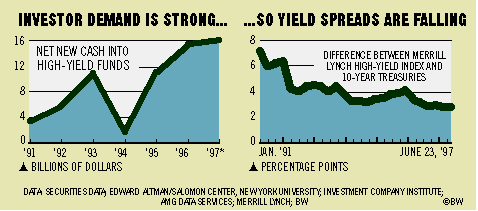 "There's a lot of companies taking on debt to invest in technologies and systems yet to be proven or, in the case of LEOS, to serve markets that never existed before," says Richard Siderman, a telecommunications analyst at Standard & Poor's Corp. Adds KDP analyst Eric K. Tutterow: "It's a leap of faith that many of these companies will be able to cover this debt."
Of course, faith is the hallmark of a bull market, be it stocks or bonds. But if investors are willing to put money into the sorts of companies that issue junk bonds these days, they might as well buy the stocks. That way, the payoff has the potential to be a lot higher than the interest rate on a high-yield bond.
Before it's here, it's on the Bloomberg Terminal.
LEARN MORE