Hollywood Heads South Again...And Movie Mad Mexicans Cheer
Elisabeth Malkin
Through a megaphone, a young assistant exhorts several hundred extras to shout louder. Massed in the courtyard of the San Blas hacienda, the "villagers" chant "Zorro! Zorro!" On the balcony above stands Spanish star Antonio Banderas. Wielding his whip and sword, Banderas is playing the masked legend immortalized by Douglas Fairbanks Sr.
When it came time to remake the fictional character, Hollywood went south. The Mask of Zorro is one of a growing number of foreign productions shooting in Mexico, attracted by exotic locations, proximity to Los Angeles, and cheap, experienced film crews. Titanic completed filming earlier this year in a studio Twentieth Century Fox built in Baja California. Director Baz Luhrmann used Mexico City for the megalopolis in Romeo and Juliet. John Sayles has just wrapped up his latest. Zapata is due later this year, along with several Spanish and Canadian movies. "When you're looking for production alternatives, why not look at what's on your doorstep?" says Jon Landau, producer of the $200 million extravaganza Titanic.
This is just the news the cash-strapped Mexican film industry needs. It has formed a National Film Commission to intercede with Mexican authorities, hook producers up to state governments, explain union rules, and promote Mexico as a location. "Word-of-mouth publicity is our best ally," says Jorge Santoyo, head of the team.
Hollywood began filming in Mexico long before John Wayne rode across the northern deserts of Durango. In the 1940s and '50s, as Mexico's own film industry flourished, such directors as John Huston returned repeatedly. In the 1980s, big-budget productions such as Dune prevailed. But the strengthening peso and obstructionist officials drove frustrated producers elsewhere.
The December, 1994, peso devaluation made Mexico attractive again. Fox built its own studio in Rosarito, equipped with a 15-million-gallon outdoor tank for Titanic, in about 100 days last year. "We couldn't have built the studio--in the time and at the cost we built it--anywhere else in the world," says Simon Bax, chief financial officer of Fox Filmed Entertainment.
PATIENCE REQUIRED. For Zorro, the locations were the main attraction. "We found incredible haciendas," says producer Doug Claybourne. "It would have cost us millions to reproduce them in the U.S." Overall, a Mexican production can save about 20%, estimates Conrad Hool, who last year produced a movie remake of the TV series McHale's Navy in Mexico.
Still, Mexico could do more to attract new films. The bureaucracy still infuriates the most patient producer. Weapons and explosives needed for Zorro required a special entry permit from the military. Film unions have begun to bend, but they still send around a dozen unneeded electricians. And the industry is too small to support enough crews for more than two or three big-budget productions. "Between our picture and Titanic, there was nobody left," says Zorro producer David Foster.
The film commission hopes the new production wave will have a spillover effect on the local industry, boosting infrastructure and training new technicians. Churubusco Studios in Mexico City has invested in state-of-the-art film-processing labs and sound-editing equipment to attract more foreign productions. The new Fox studio and Titanic have spawned an infant industry south of San Diego. "Now that we have a film studio in Mexico, it's in our interest to see a vibrant film community here," says Bax, who met with Cabinet officials recently to discuss how Fox could generate more production.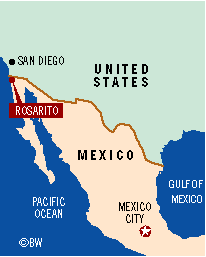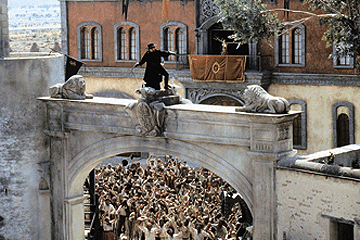 All the activity means plenty of work experience for film-mad young Mexicans. The film commission estimates foreign productions have generated at least $250 million in the past two years. That provides steady work for people such as assistant director Manuel Hinojosa, 32, who worked on Sayles's latest film. Hinojosa earned $1,000 a week, far below Hollywood's $3,000-plus union scale but almost triple what he earns on a Mexican shoot. Now, when a friend asks him to work on a bare-bones local feature, Hinojosa can afford to accept the labor of love. So another Titanic may help Mexico produce some local hits.
Before it's here, it's on the Bloomberg Terminal.
LEARN MORE