From Big Oil To Behemoth Oil
Having downsized and spun off, the industry turns to M&A
Gary Mcwilliams
It's the kind of bare-knuckles play seldom seen in the oil patch lately: On June 23, Union Pacific Resources Group, the largest U.S. independent oil and gas exploration company, launched a hostile bid for Pennzoil Co. Union Pacific Resources called Pennzoil's managers "unwilling or incapable" of executing its business, and attacked the company's antitakeover defenses in court in three states. Houston-based Pennzoil agreed to respond by July 7.
Whatever the outcome, the battle signals a new phase of industry consolidation. Having downsized, spun off nonenergy operations, and restructured, Big Oil is now turning its attention to mergers and acquisitions, say investment bankers and analysts. With low debt levels, soaring competition for new reserves, friendlier regulators, and pressure to boost returns, combining some of the biggest players could be the cheapest, most effective way to raise the bottom line. Or so the logic goes.
"SUPERMAJORS." Already this year, M&A activity in oil has reached $20.5 billion, seemingly destined to surpass the $28.3 billion spent on deals in 1996. "We're poised for a record year if this trend continues," says Securities Data Co. analyst Richard J. Peterson.
So far, that consolidation is most apparent among the fast-expanding group of small and midsize oil companies. But the trend is expected to spread to the biggest companies, which have cash burning a hole through their balance sheets and a need to find ways, beyond cost-cutting and joint ventures with each other, to make more money. In addition, all the majors are carrying what industry experts consider low levels of debt--primarily because exploration costs are falling and there are not enough potential new reserves in which to invest. Says Morgan Stanley Dean Witter analyst Douglas T. Terreson: Mergers are "the next logical step."
The result, says Terreson, will be the emergence of a new type of elephantine oil enterprise--what he's calling the "supermajors." He predicts the urge to merge will soon engulf companies the size of Atlantic Richfield Co., Texaco, and Mobil. And once it starts, the pace should be brisk as companies race to find the most desirable properties. "The timing is right for these large transactions because capital markets are fluid," says Roswell F. Vaughan III, a managing director in Prudential Securities Inc.'s energy investment banking group.
Even giant Exxon Corp., with $134 billion in annual revenues, might bid for a peer company, say analysts. With a price-earnings ratio of 22, Exxon could even acquire a company the size of Amoco Corp. without diluting earnings, analysts calculate. While Exxon declined to comment, it has in fact told analysts it is unhappy with its present debt level, a low 15% of total capital.
The low debt ratio in the capital-intensive oil business is a sign to analysts that companies are not making the investments that will produce future earnings. Typically, the industry's debt-to-equity ratio is in the mid-30s. Adam Sieminski, vice-president and oil analyst at NatWest Securities Corp., estimates the average industry debt-to-equity ratio, currently about 25%, will drop below 10% by 2001, if this trend continues. "That [low number] doesn't make a lot of sense," Sieminski says.
For Union Pacific Resources, at least, it makes sense to plow money into new reserves. That's the logic behind its $6.4 billion bid for Pennzoil. Spun out of Union Pacific Corp. in October, 1995, the feisty driller has a nearly $7 billion market cap, little debt, and a need for new places to drill.
Union Pacific Resources is particularly interested in Pennzoil's U.S. properties. Its $84-a-share offer, with its 41% premium over Pennzoil's closing price on June 20, represents an attempt to preempt rivals who are interested in the rich reserves that Pennzoil owns in the Caspian Sea, say analysts. Union Pacific Resources Chairman Jack L. Messman says that he's "in it for the long haul," no matter what defenses Pennzoil throws up. Analysts believe international oil companies such as Elf Aquitaine, Total, and Royal Dutch/Shell Group could still enter the bidding.
Even if a white knight doesn't appear, James J. Manzi, a vice-president at Mercer Management Consulting, says the Union Pacific Resources offer won't be the last big deal this year: "There is a very active rumor mill around lots of independents and majors combining operations." Among the most frequently mentioned targets: The Coastal Corp. and DuPont Co.'s Conoco Inc. Both companies declined comment.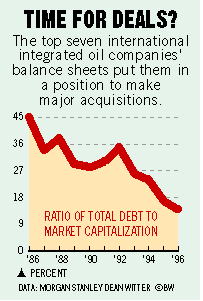 To oil-patch veterans, such talk is a red flag--a warning that the merger-mania of the 1970s and 1980s could return. Back then, raiders like T. Boone Pickens Jr. forced such companies as Phillips Petroleum Co. to sell off assets and take on crushing debt to stay independent. But what about the reaction of regulators? So far, alliances among the majors, such as production joint ventures by Amoco and Shell and the proposed linking of Texaco and Shell refining and marketing arms, haven't raised many eyebrows. And given the M&A free-for-all in other industries, most analysts don't expect many roadblocks for oil. "We're beyond the raider era," says Messman. "When it's economically driven, it's politically acceptable."
And the economics do seem to dictate merger. Certainly Wall Street--which sees big bucks in M&A frenzy--is cheering UPR and others on. This is one industry in which it may be possible to repeat the past and still profit.
Before it's here, it's on the Bloomberg Terminal.
LEARN MORE