De La Hoya: `I Can Lift The Name Of Boxing'
After Holyfield-Tyson, the big draw may be the undefeated 147-pounder
Jennifer Reingold
Where does boxing go after Holyfield-Tyson II, the event that has been billed as the biggest rematch in history? Most of the other heavyweights are past their prime or too obscure to make the splash required for a big pay-per-view payday. The answer may lie behind an angelic face gazing out from one of those milk moustache ads. It belongs to Oscar De La Hoya, the undefeated 147-pounder who has knocked out 21 of his 25 opponents and who is being sold, rock-star style, as "dangerously handsome."
Not only does the 24-year-old De La Hoya have a devastating one-two punch for marketers--fast fists and sex appeal--but he also is a Mexican American. That's important because boxing--and many advertisers--are actively courting Hispanics, the fastest-growing group in the U.S. "We have gone out of our way to target the Hispanic market," says Las Vegas boxing promoter Bob Arum of Top Rank Inc.
YOUNG BLOOD. In part, it's a matter of necessity. Although boxing got a boost from Mike Tyson's November loss to Evander Holyfield and the June 28 rematch--expected to be the largest pay-per-view event ever--both fighters are in their 30s. Now, with 50% of PPV's event revenues coming from fights featuring Tyson, cable networks Home Box Office Inc. and Showtime Networks Inc. and their pay-per-view arms are trying to create a buzz in the lower weight classes, where Hispanic fighters tend to be more prominent. "We and our competitors are trying to develop the talent of tomorrow," says Jay Larkin, Showtime Sports & Event Programming's senior vice-president.
Showtime's ads for Holyfield-Tyson II tell the tale of the videotape. Directed by Spike Lee, the dramatic black-and-white spots feature the massive heavyweights exchanging blows to the sound of eerie New Age music. Flip the channel to Spanish-language Univision, and the stark imagery reappears--but this time, it's the undercard fighter, longtime Mexican lightweight champ Julio Cesar Chavez, doling out the punishment.
NEW FANS. The poster child for the new push is De La Hoya, a brutal competitor with a reputation for clean living. "With my image, my personality, and my charisma," he says, "I can lift the name of boxing." Certainly, people are tuning in. De La Hoya's Apr. 12 fight against Pernell Whitaker drew some 865,000 subscribers and made $36 million--the largest-grossing nonheavyweight fight in history. "He's one of only two or three men right now who carry the sport," says Seth G. Abraham, president and CEO of Time Warner Sports. And De La Hoya has attracted a whole new audience: HBO reports that some 20% of his viewers are women.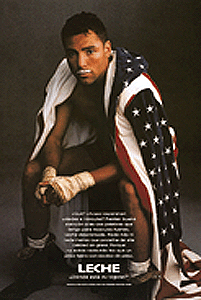 De La Hoya has also attracted companies that have rarely ventured near boxing, such as Colgate-Palmolive Co., which uses him in its Spanish-language commercials for Mennen Speed Stick, and Logo Athletic, which is wrapping up a seven-figure deal with the fighter.
De La Hoya's agent, Leigh Steinberg, thinks Oscar's good-guy reputation and dazzling smile give him the "ability to...appeal to a larger audience." Although De La Hoya now trails George Foreman--the only other current boxer to get significant endorsements--Steinberg says: "Within a year, we'll blow them away." De La Hoya himself K.O.'s the idea of being categorized. "I'm trying to break that barrier," he says. Usually, when Oscar De La Hoya tries to break things, he succeeds.
Before it's here, it's on the Bloomberg Terminal.
LEARN MORE