`Come Back To Your Father's House'
Anne Kalosh
In a velvet top hat encrusted with sequins and a purple brocade sash, the voodoo priest scoops up a baby goat and ducks into the temple. Moments later, a woman bursts out of the doorway, the bloody, limp kid draped over her shoulders. Eyes half closed, the woman skitters in a dance of ecstasy honoring a deceased priest. Solomon Herbert trails her with his camera.
Herbert and his wife, Gloria, both African Americans, are publishers of Los Angeles' Black Meetings & Tourism, a travel magazine. They are here in Benin, the world capital of voodoo, to witness ritual sacrifices, sway to calabash drums, chew kola nuts in the hut of a fortune-telling chieftain, and order suits tailored from traditional fabrics. The Herberts are also searching for their roots. Nearly 3 million Africans were forcibly shipped to the New World from Benin's port of Ouidah. So Benin (known until 1975 as Dahomey) could be the Herberts' ancestral homeland.
An impoverished West African country the size of Tennessee, Benin is targeting black Americans and others interested in Africa's past, to build tourism. In 1996, heavily promoted Kenya attracted 907,000 international tourists, who spent $493 million. In contrast, visitors to Benin spent just $29 million. But the number of tourists here was up 6.5% over 1995, to 147,000 (including 5,000 Americans), according to Madrid's World Tourism Organization. West Africa as a whole was up 4.3%.
BORN-AGAIN. "Come as tourists, as businessmen, to make this place your own homeland. Come back to your father's house," Benin President Mathieu Kerekou exhorts a group of Americans and Haitians visiting the presidential palace in Cotonou. Tourism is a priority for Kerekou. After his Marxist policies nearly bankrupted the "Cuba of West Africa" in the 1980s, Kerekou has become a born-again Christian and born-again capitalist.
Attracting tourists isn't easy. Air connections are abysmal, roads are poor, and there are only a handful of upscale hotels. But the biggest problem is that few people have ever heard of Benin. While South Africa, the continent's top tourist destination, spent $24 million to attract 4.9 million tourists last year, little Benin's marketing budget was just $120,000. "We're in obscurity," says Ian Kent, the British general manager of the 228-room Sheraton Cotonou. He recently took part in an eight-city U.S. promotional tour. "Not one person knew where Benin was. Not one," he says.
Benin lacks monuments such as Ghana's Slave House or the slave castles of Goree Island, off the coast of Senegal, which Hillary and Chelsea Clinton visited, notes Gaynelle Henderson-Bailey, president of Henderson Travel Services in Silver Spring, Md. Her agency has sent 50,000 tourists to West Africa since 1957, but only a few hundred to Benin. The country must upgrade its facilities, and "it's going to take dollars," she says.
LURING YANKS. Little of that money will come from Benin. Some 75% of its 5 million people are illiterate and live in dirt-floored shacks. Per capita income, mostly from agricultural work, is $418. But Benin could catch the attention of U.S. investors as a site for low-cost, labor-intensive industries. Washington Corporate Council on Africa, a pro-investment group in Washington whose members include Exxon, Coca-Cola, and Caterpillar, will send representatives of 20 companies to Benin on a trade mission in July. Congress is considering a bill to spend $650 million promoting investment and improving infrastructure in sub-Saharan countries. And world leaders meeting at the Summit of the Eight in Denver pledged they would foster economic growth there.
In May, the Africa Travel Assn. met in Cotonou, attracting 400 travel agents, tour operators, hoteliers, and airline officials. A similar meeting in nearby Ghana three years ago resulted in a spate of new hotels. Benin will up its promotion budget to $1.5 million next year--for ads in black travel publications and shows and festivals in U.S. cities, such as Chicago and Atlanta, with large African American populations. Benin wants to triple the number of tourists and travel receipts in five years.
MAGIC RITUAL. Even with Benin's lack of facilities, there is good reason to visit: native dances, colorful villages, and, of course, voodoo. Benin exported the religion on slave ships to Cuba, Brazil, and Haiti. But U.S. tourists come primarily because this is the land of their ancestors. "These guys from America with their big houses and cars don't want to come here and look at temples. They want to get the feeling: `This is where I came from,"' says Kent.
Descendants of American slaves walk along Ouidah's red-dirt Slave Route, past the human auction blocks and the so-called sacred trees of forgetfulness that slaves circled before leaving, a magic ritual to make them forget their homeland. Tourists visit the mass grave of slaves who died before boarding the ships, then end at the Gate of No Return, a portal at the beach from which the ships sailed.
For visitors, searching for roots is emotional. "Some get down and kiss the ground," says Clinton (Md.) travel agent Helen Broadus. One was so moved while visiting a poor village that he gave away his clothes and returned to his hotel wearing only his boxer shorts.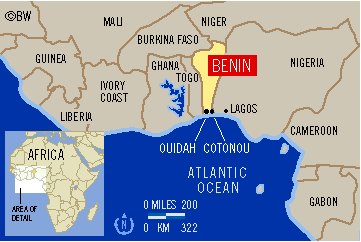 "To see my ancestral home is something I needed to do," says Rachel-Yvonne King, 31, a medical accountant from Cleveland. She broke down in tears at the mass grave. "All the spirits just hit me in the face," says King, who plans to return next year.
That kind of experience is Benin's strongest lure. But just in case, the country has enlisted the aid of one of its most powerful citizens. The day after the goat sacrifice, the top-hatted priest, known world-wide as the "pope of voodoo," greets tourists at the Gate of No Return. His knife now sheathed, he touches each on the shoulder, urging: "Come back to Benin."
Before it's here, it's on the Bloomberg Terminal.
LEARN MORE