Cisco Bulks Up For Battle
It takes the lead in a networking buying spree
By
Call it networking's winter of discontent. After two years of torrid 60%-plus growth, makers of data communications gear caught a chill in the first quarter of 1997 as customers paused to digest their multibillion-dollar feast of new equipment. Investors worried about a protracted slowdown reacted by driving down the shares of highfliers such as Cisco Systems and 3Com Corp. by as much as 28% and 62%, respectively, between January and April.
Now, there's a warming trend sweeping the business. Second-quarter numbers are rolling in, and the networking business as a whole is back on a 30% growth path. Only, not everybody's basking. While big companies like Cisco and 3Com are getting fatter, smaller outfits such as Fore, Xircom, Xylan, Madge Networks, and Cabletron Systems are turning in disappointing results. That could accelerate the consolidation that has already moved 82% of industry revenues into the hands of the top four giants, according to Robertson, Stephens & Co.
No company typifies this trend more than Cisco. With its stock up 56% in the last two months and a cash hoard of $1.3 billion, Cisco is once more in a buying mood. On June 24, it paid $200 million to add two more companies to its bulging portfolio: Global Internet Software Group in Palo Alto, Calif., a maker of Internet security software, and Ardent Communications Corp. in San Jose, a startup specializing in network gear for combining voice, data, and video traffic on high-speed communications lines. The deals buttress Cisco's position as the No. 1 networking company, with projected revenues of $5.88 billion in the year ending July 31, according to Noel Lindsay of Deutsche Morgan Grenfell.
3Com, networking's No.2, is on the upswing, too. It just acquired modem-maker U.S. Robotics Corp., creating a $5.5 billion behemoth that commands top position in modems and PC networking cards. "We outgrew our competitors," says CEO Eric Benhamou.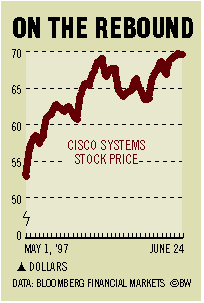 Where does that leave competitors like Bay Networks Inc. and a score of smaller players? Many are trying to buy their way into the big league. Bay, for instance, announced June 19 that it would acquire Rapid City Communications, a startup that makes high-speed data switches. But Bay is still recovering from years of misdirection, and earned only $255,000 in the quarter ended March 31 after a $32 million restructuring charge. "The small guys are becoming like the walking dead," says analyst Don Miller of Dataquest.
FRANCE, TOO. The sheer size and momentum of the top dogs give them an edge in forging partnerships. Cisco, for instance, is working closely with Microsoft Corp. to develop new networking technology for Windows NT. And on June 23, it announced a sweeping agreement with French communications giant Alcatel Telecom.
With partners like that in its camp, Cisco will continue to pull away from the pack. That could leave small networking competitors out in the cold.