And The Hottest Bond Market In The World Is...
Surprise--Canada, where investors like its sizzling economy
William C. Symonds
Ask DRI/McGraw-Hill Canadian economist Robert Fairholm which bond market delivers the most bang for the buck these days, and you'll discover there's no doubt where his allegiances lie. No, not with the mighty U.S. "This is a great time to invest in Canada," says Fairholm.
Fairholm has a lot of support. Indeed, Canada has suddenly become the darling of international investors. For years, Canadians have had to pay a stiff premium over U.S. interest rates to finance their ballooning debts. As recently as 1995, the spread between 30-year Canadian and 30-year U.S. government debt was nearly two full percentage points. But in recent days, yields on Canada's long-term bonds have slipped to 6.7%--and now are below those on comparable U.S. debt for the first time ever (chart). Three-month Canadian Treasury bills are actually paying a mere 2.78%, vs. 5.02% in the U.S. "Things haven't looked this bright for Canada in at least 10 years," says Merrill Lynch & Co. economist Karim Basta.
MORE EXPORTS. The Liberal government of Prime Minister Jean Chretien, who was reelected on June 2, gets much of the credit for Canada's newfound stature. Chretien inherited a deficit equal to 6% of Canada's gross domestic product when he took power in 1993. Thanks to spending cuts and strong growth, the deficit is expected to slip under 2% of GDP this year. By 1999, Canada should be running a surplus. Plus, soaring exports to a booming U.S. have helped Canada all but wipe out its current account deficit, which equaled a hefty 4% of GDP as recently as 1993.
Equally remarkable is that "almost every economic indicator is pointing upward," observes Carl B. Weinberg, chief economist at High Frequency Economics Ltd. based in Valhalla, N.Y. Yet with unemployment still at 9.5%, "there's no sign of inflation." In fact, inflation could fall to 1% in coming months from its current level of 1.5%. That's allowing the Bank of Canada to keep interest rates low--and allowing long moribund domestic demand to roar back. Department-store sales are up 10.3% since last summer, while building permits are up 32%. As a result, Toronto-based broker Nesbitt Burns predicts Canada will grow 4% this year and 3.5% next, faster than any of the other Group of Seven industrial countries. "Just two years ago, Canada was being thought of as the next Mexico," says Royal Bank of Canada chief economist John McCallum. Today, "it's seen as a model of virtue."
The makeover has produced a bonanza for buyers of Canadian bonds. J.P. Morgan & Co. figures that over the past year, Canadian debt has produced a stellar 13.64% return, against only 7.37% for U.S. Treasuries. Most observers believe long-term rates have plenty of room to fall. "The market is still in the process of recognizing that you don't need such a big risk premium," says Robert Marcus, vice-president for fixed income investments at Toronto's Altamira Management Ltd. High Frequency's Weinberg predicts 30-year yields could fall as low as 5.5% over the next year. What makes Canadian bonds even more attractive to foreign buyers is the strong likelihood the Canadian dollar will rise. Right now, contends Fairholm, it "is drastically undervalued" at 72 cents to the greenback.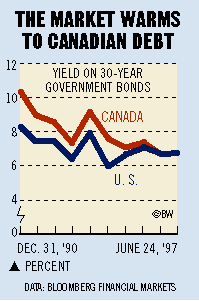 BREAKUP? What may send the Canadian dollar higher are short-term rate increases expected from the Bank of Canada later this year as the economy strengthens. The rate hikes could total a half to a full percentage point. But few traders think they would take the bloom off bonds. Instead, they remain concerned that any overheating in the U.S. would spark Federal Reserve rate hikes and unsettle the Canadian market for at least a while. Quebec separatism is an even bigger threat. Quebec Premier Lucien Bouchard is now vowing his province will be independent by 2001. He is expected to hold a new referendum by 1999. Any sign he's about to win such a vote would trigger a huge sell-off.
But a Canadian breakup currently seems as distant to the market as the forecast of evening thunderstorms on a bright summer morning. And for most bond investors, it still seems like morning in the new, improved Canada.
Before it's here, it's on the Bloomberg Terminal.
LEARN MORE