Red Chip Revelry
Despite scandals, mainland stocks keep soaring. How long can it last?
By
Gary Greenberg used to be dismissive of red chips, the often murky companies controlled by mainland Chinese interests that are listed on the Hong Kong stock exchange. While other investors wildly bid up new red-chip offerings, the deputy managing director for Peregrine Asset Management (Hong Kong) Ltd. feared they were far too risky--and prone to a crackdown by conservative Chinese regulators.
But in mid-May, Greenberg says he "underwent a conversion." That's when he attended a Hong Kong road show to promote the initial offering of Beijing Enterprises Holdings Ltd., which owns a hodgepodge of businesses controlled by Beijing's municipal government. Among the luminaries on the dais was the Communist Party secretary for Beijing. To Greenberg, the powerful official's presence proved China's leadership is solidly behind the red chips and will ensure they have access to juicy deals on the mainland. Thanks largely to Hong Kong stocks such as Beijing Enterprises, which has quadrupled, to $6.28, since May 29, Peregrine's Asia Pacific Growth Fund is up 10% over the past month.
Now the fear is that too many people have bought that seductive story. Since early 1993, red-chip prices have risen nearly fourfold, far outpacing the rise in the Hang Seng Index of blue chips (chart). Most of those gains have come in recent months as a result of buying from mainland Chinese, who carry suitcases of cash over the border. No matter that few China-backed companies have track records as reliable performers. They still trade at phenomenal levels--about 78 times earnings in the case of Beijing Enterprises. Even after Beijing temporarily sent the market tumbling with a crackdown on insider trading, red chips bounced back on June 16, jumping 7.3%.
With just days remaining before Hong Kong's July 1 handover to China, investors are wondering how long the party can last. Chinese regulators are expected to announce new curbs on mainland listings in Hong Kong, while their counterparts in Hong Kong are stepping up the battle against manipulations. They face a dilemma, however. If they move too aggressively now, they risk triggering a major sell-off that shatters confidence just as China takes over. But doing nothing poses its own dangers. When it comes to red chips, "we're worried about the potential for insider trading and market manipulation," says Anthony Francis Neoh, chairman of Hong Kong's Securities & Futures Commission (SFC). Chinese officials are worried about the insider-trading epidemic, too. If Hong Kong loses its reputation as one of Asia's cleanest capital markets, that could make it more difficult and costly for Beijing to use the territory to raise funds for its heavily indebted state enterprises.
For now, authorities on both sides of the border are relying on tactical strikes to keep the rogue traders off balance. Hong Kong regulators, who have had a reputation for being too relaxed about insider dealing, have moved fast to suspend trading in stocks that appear to be manipulated.
In China, retribution has been harsher. On June 12, Beijing announced that senior executives at some of the country's largest banks and securities houses were fired and their firms fined for manipulating share prices and lending large sums for stock speculation. The president of Industrial & Commercial Bank of China's Shanghai branch was ousted after authorities found the branch illegally lent more than $1 billion to three major securities firms last year. Top officials at the three firms also were fired, and the firms were banned from trading for one year. That followed the abrupt replacement of the head of the China Securities Regulatory Commission (CSRC), the country's top watchdog.
Another jolt came on June 11 when the chairman and chief accountant of Hong Kong-listed Guangshen (Guangzhou-Shenzhen) Railway Co. were fired after it was learned that they had used $36 million raised through unauthorized stock offerings for their own trading. Such abuses by Chinese executives are believed to be widespread, but punishment usually is light.
The shakeup drove down prices of Hong Kong's red chips by 11%. But within four days, prices shot back up by 18% when investors realized the purge was over. Such exuberance in the face of a crackdown shows how difficult it will be for regulators to cool the fever. Helping fuel the rise: billions in liquid capital sloshing around the Chinese economy after three years of tight money. With rates on bonds and bank deposits low, stocks are among the few places investors can earn decent returns.
Also pushing up prices are Hong Kong Chinese retail investors, who have been more aggressive in recent weeks. Locals are betting that after the red chips list in Hong Kong, their parent companies in China will sell assets to them at cut-rate prices. Mainland managers and party officials own stock in Hong Kong-listed vehicles, and such asset injections will make their holdings more valuable.
But there is no guarantee businesses sold to Hong Kong holding companies will be profitable. Also, Beijing leaders, suspicious that state assets are being sold on the cheap, may suddenly halt such transfers. "You're buying blind in the hope that these guys are going to deliver with asset injections," explains Adrian Faure, head of Hong Kong and China research at Merrill Lynch (Asia Pacific) Ltd. Even more worrisome is evidence that the anything-goes mentality toward insider dealing that is common in China's stock markets may be spreading to Hong Kong. Most of the 24 companies whose trading has been suspended by Hong Kong regulators since mid-May have been red chips.
The good news is that oversight agencies in both Hong Kong and China are starting to cooperate. Chinese regulators rounded up witnesses and documents from China for the Hong Kong SFC's largest-ever trading fraud case, against Paragon Holdings Ltd., where insiders allegedly pocketed $13 million in ill-gotten gains. The SFC's Neoh says Beijing has promised full support for actions against red chips. After a reorganization, Beijing's CSRC is now run by an official with clout: Zhou Zengqing, former deputy director general of the powerful State Council. Says Neoh: The Chinese "understand that if our market suffers, the whole nation suffers."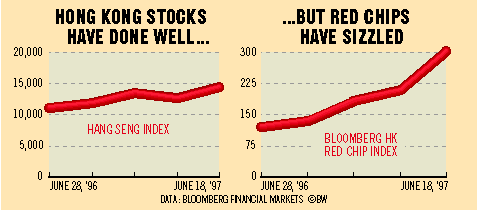 GAMBLERS. But the SFC has 280 staff to police 614 public companies, and most of the new companies have little or no experience with international business practices. Beijing's CSRC has 150 regulators for two stock exchanges and a number of small commodity exchanges. Regulators "will never admit it," contends Peter Churchouse, Morgan Stanley Asia Ltd.'s co-director of Far East research, but Hong Kong oversight is bound to slip because of the poor disclosure by Chinese companies. "They won't be able to help it," he says.
So should investors dump Hong Kong stocks after July 1? Not necessarily. Except for three companies--Hongkong Telecommunications, Hongkong & Shanghai Banking Corp., and China Light & Power--the Hang Seng Index has been virtually flat all year. Many analysts believe that other blue chips are undervalued and due for a runup. But for investors who are gambling on Hong Kong's red chips, the coming months are likely to remain a wild ride.