Investment Figures Of The Week
COMMENTARY
Yawn--another record-setting week in the market. This week, the Dow blew past
7600 and 7700 to close at 7718.7. Smaller stocks picked up the pace as well,
and the NASDAQ Composite Index paced the Dow's advance. The indexes ended the
week on a down note, however, with computer companies such as Gateway 2000 and
Seagate Technology warning that profits might disappoint investors. Reassuring
news on the inflation front sparked a bond rally, and the yield on the 30-year
Treasury sank from 6.83% to 6.68%.
STOCKS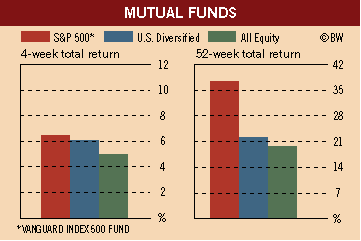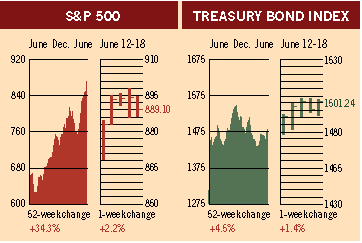 % change
      U.S. MARKETS                   Latest       Week    Year
      Dow Jones Industrials          7718.7        1.9     37.1
      NASDAQ Combined Composite      1432.4        1.7     21.1
      S&P MidCap 400                  289.3        2.2     22.2
      S&P SmallCap 600                159.2        1.2     18.0
      S&P SuperComposite 1500         190.0        2.2     32.3
      
                                                     % change
      SECTORS                        Latest        Week    Year
      Bloomberg Information Age       269.0        2.5     33.0
      S&P Financials                  103.2        3.5     54.3
      S&P Utilities                   196.9        1.8      5.1
      PSE Technology                  284.2        3.5     36.5
      
                                                     % change
      FOREIGN MARKETS                Latest        Week    Year
      London (FT-SE 100)             4657.0       -1.4     24.0
      Frankfurt (DAX)                3730.3        1.4     46.3
      Tokyo (NIKKEI 225)           20,497.9        1.0     -8.2
      Hong Kong (Hang Seng)        14,203.9       -1.5     29.7
      Toronto (TSE 300)              6498.1        0.6     28.4
      Mexico City (IPC)              4281.5        2.1     33.7
      
                                              Week    Year
      FUNDAMENTALS                   Latest   ago      ago
      S&P 500 Dividend Yield          1.66%   1.72%   2.16%
      S&P 500 P/E Ratio
       (Last 12 mos.)                 22.6    21.9    19.1
      S&P 500 P/E Ratio
       (Next 12 mos.)*                18.4    17.8     NA
      First Call Earnings Revision* -1.25%  -1.70%     NA
      
                                              Week
      TECHNICAL INDICATORS           Latest   ago      Reading
      S&P 500 200-day average        762.6   757.0     Positive
      Stocks above 200-day average   78.0%   76.0%     Negative
      Options: Put/call ratio         0.57    0.54     Negative
      Insiders: Vickers
       Sell/buy ratio                 1.43    1.41     Positive
      
      BEST-PERFORMING         Last                         Last 12
      GROUPS                 month %                       month %
      Personal Loans          21.9    Oil & Gas Drilling      82.9
      Invest. Banking/Brkrge. 19.3    Savings & Loans         77.9
      Oil & Gas Drilling      18.6    Invest. Banking/Brkrge. 75.3
      Broadcasting            17.9    Semiconductors          72.5
      Heavy-Duty Trucks       16.2    Computer Software       59.9
      
      WORST-PERFORMING        Last                         Last 12
      GROUPS                 month %                       months %
      Restaurants             -3.9    Gold Mining            -22.3
      Oil Exploration & Prod. -3.8    Engineering & Constr.  -15.6
      Metal & Glass Containers-1.9    Manufactured Housing    -5.3
      Gold Mining             -1.8    Hotels & Motels         -2.8
      Airlines                -1.6    Photography/Imaging     -2.6
      
      BLOOMBERG MONEY FLOW ANALYSIS
      Rebound ahead?  Stocks with most significant buying on price weakness
                                            1-month
                              Price         change
      Texas Instruments       89 5/8        -1/4
      UAL                     74 3/4        -2
      ITT                     58 7/8        -5/8
      Photronics              40 1/4        -5 5/8
      Delta Air Lines         88 7/8        -3 1/8
      Abbott Laboratories     65 3/8        -3/4
      
      Decline ahead?  Stocks with most significant selling on price strength
                                            1-month
                              Price          change
      Microsoft              134 3/16        19 1/16
      Dell Computer          120 7/8         23 3/8
      3Com                    47 1/4          9 1/8
      Worldcom                31              4 3/4
      Atmel                   27 13/16        2 13/16
      Quantum                 22 3/4          2  3/8
      
      INTEREST RATES
      
                                      Latest  Week     Year
      KEY RATES                       week%   ago%     ago%
      MONEY MARKET FUNDS              5.16    5.15     4.98
      90-DAY TREASURY BILLS           5.06    4.97     5.21
      6-MONTH BANK CDS                5.21    5.21     4.88
      1-YEAR TREASURY BILLS           5.61    5.72     5.78
      10-YEAR TREASURY NOTES          6.39    6.55     6.93
      30-YEAR TREASURY BONDS          6.68    6.83     7.09
      LONG-TERM AA INDUSTRIALS        7.18    7.35     7.66
      LONG-TERM BBB INDUSTRIALS       7.61    7.75     8.05
      LONG-TERM AA TELEPHONES         7.42    7.58     7.90
      
      BLOOMBERG MUNI YIELD EQUIVALENTS
      Taxable equivalent yields on AAA-rated, tax-exempt municipal bonds,
      assuming a 31% federal tax rate.
                               10-yr. bond     30-yr. bond
                              Latest  Last    Latest  Last
                              week    week    week    week
      GENERAL OBLIGATIONS     4.71%   4.79%   5.28%   5.36%
      PERCENT OF TREASURIES   73.74   73.00   79.01   78.42
      TAXABLE EQUIVALENT      6.83    6.94    7.65    7.77
      INSURED REVENUE BONDS   4.82    4.92    5.47    5.57
      PERCENT OF TREASURIES   75.46   74.96   81.86   81.47
      TAXABLE EQUIVALENT      6.99    7.13    7.93    8.07
      
      MUTUAL FUNDS
      
      EQUITY FUNDS
      Leaders                                 Laggards
      Four-week total return         %        Four-week total return        %
      American Heritage             15.6      Bull & Bear Gold Investors   -9.0
      Keystone Am. Hart. Em. Gr. A  14.8      Fontaine Global Growth       -8.7
      Invesco Worldwide Cap.        13.5      Lindner Bulwark Investors    -8.0
      Morgan Stan. Inst. Lat. Am. A 12.1      Invesco Strategic Gold       -7.7
      Morgan Stan. Latin Amer. A    11.8      United Svcs. Gold Shares     -7.6
      
      Leaders                                 Laggards
      52-week total return           %        52-week total return           %
      Morgan Stan. Inst. Lat. Am. A 61.5      United Svcs. Gold Shares     -42.6
      Morgan Stan. Latin Amer. A    59.6      Steadman Technology Grth.    -34.9
      Legg Mason Value Primary      53.9      Bull & Bear Gold Investors   -33.1
      Davis Financial A             53.9      Lexington Strategic Invmnts. -32.0
      Transamerica Equity Investor  52.4      Morgan Stan. Inst. Gold A    -31.2
      
      EQUITY FUND CATEGORIES
      Leaders                                 Laggards
      Four-week total return          %        Four-week total return         %
      Latin America                  9.0      Precious Metals               -3.6
      Communications                 7.7      Europe                         1.6
      Small-cap Growth               7.1      Natural Resources              2.1
      Financial                      7.1      Foreign                        2.6
      Small-cap Blend                6.7      Japan                          2.8
      
      Leaders                                 Laggards
      52-week total return           %        52-week total return            %
      Financial                     44.7      Precious Metals              -21.7
      Latin America                 39.0      Japan                         -5.0
      Real Estate                   31.6      Small-cap Growth               0.0
      Large-cap Blend               30.1      Diversified Pacific/Asia       4.6
      Large-cap Value               29.5      Pacific/Asia ex-Japan          6.0
      
      All data are as of market close Wednesday, June 18, 1997, unless otherwise 
      indicated. Industry groups include S&P 500 companies only.  Fundamentals, 
      technical indicators, Bloomberg money flow analysis, and mutual fund returns 
      are as of June 17. For a more detailed explanation, write to us or E-mail 
      figures@businessweek.com.  NA=Not available  **Vanguard Index 500 Fund