Global Sizzle For Morton's Steaks?
By
Along with gourmet coffee, premium liquor, and expensive cigars, juicy steaks are back--if the crowds at 36 pricey Morton's of Chicago steak houses around the U.S. are any sign. So some big investors are snapping up shares of Morton's Restaurant Group (MRG).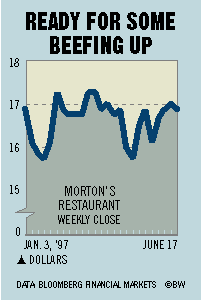 Another plus: Morton's is heading abroad, with its first overseas restaurant set to open this year in Singapore. In early June, Morton CEO Allen Bernstein signed a lease for space in the luxurious Oriental Hotel in Singapore's financial district. Morton's expects to open three more overseas branches next year. In time, the company plans to add 30 to 35 Morton's steak houses in Europe and Asia, says one insider. Bernstein says Morton's will be a sellout overseas, because it will air-ship prime aged steak from Chicago every day. "Consistent top quality in our steaks and service is the key to our success," says Bernstein.
Analyst Lynne Collier of Dallas investment firm Rauscher Pierce Refs-nes says Morton's continues to see "strong same-restaurant sales, with current [growth] trends in the 8%-to-9% range." Over the years, she adds, Morton's has demonstrated exceptional unit-level economics with average sales per restaurant of $5.4 million and a 37% pretax return on investment. Morton's stock, trading at 16 7/8, is attractive, Collier says--at just 14 times her 1997 earnings estimate of $1.20.