Who Says Insurers Are Dull?
A buying binge by Rolf Huppi has Zurich Insurance hopping
David Woodruff
Rolf Huppi is taking Zurich Insurance Group for a fast ride. The 54-year-old CEO, who at age 20 passed up an opportunity to study in Paris in favor of a job in the Swiss insurer's New Delhi branch, has propelled the company rapidly into financial services and international markets. His latest gambit: trying to snag Scudder, Stevens & Clark Inc., the New York-based mutual-fund specialist, for an estimated $1.5 billion.
Huppi's bold strategy has fueled strong growth and driven up Zurich's stock price. Since 1994, Zurich has bought six companies, including Chicago-based Kemper Corp., which it acquired for $2 billion last year. The firm also has formed joint ventures and opened offices in emerging markets from Russia to Thailand. Earnings are expected to hit $970 million in 1997--double those of 1994--on revenues of $21.5 billion. "They are among the best from a financial strength perspective," says Rob Jones, director of Standard & Poor's Corp.'s insurance rating unit in London.
"BEARING DOWN." Huppi, who became CEO in 1991, shows no signs of wanting to slow his pace. The world's 11th-largest insurer, Zurich must continue to forge ahead or risk falling behind such fast-moving global giants as France's Axa Group and American International Group Inc. "Big challenges are bearing down upon us," he says. But Huppi has plenty of ammunition. Booming markets boosted the value of Zurich's investments by 33% in 1996, to $80 billion. A weaker Swiss franc also has helped, increasing the value of Zurich's earnings from North American and German subsidiaries, which account for 43% of its revenues. Moreover, the company has substantial reserves that will provide it with a cushion if conditions sour. Merrill Lynch & Co. analyst Robin Mitra estimates Zurich has set aside $2.3 billion that can be drawn down to shore up earnings without jeopardizing its financial strength.
Assuming that the Scudder deal goes through as anticipated, it should bolster Zurich's earnings even further. Scudder's $115 billion in assets, upscale clientele, and gilt-edged reputation could give a boost to Zurich Kemper Investments Inc., which had been batted back and forth among several suitors before the Swiss took charge.
Despite the stock market's hitting record highs, the Kemper family of funds has been a lackluster performer, and its market share has shrunk from 3.2% to 1.17% since 1990. Industry sources think Zurich would merge the Kemper and Scudder trading desks and other units to cut costs. Moreover, the additional fees Scudder's funds generate will help smooth out the volatile earnings swings of Zurich's core insurance business. A Scudder spokeswoman declined to comment, but Huppi, who also declines to comment about Scudder, notes that Zurich's moves to beef up and focus Kemper's marketing have started turning that company around.
There could be a hitch, however: Scudder's relationship with its biggest client, the American Association of Retired Persons (AARP). Scudder's exclusive contract to offer investment funds to the AARP's 33 million members has brought in $14 billion in assets. AARP Executive Director Horace B. Deets says the group is discussing whether Scudder's acquisition by a large foreign company would benefit his organization.
JUGGLING. Deets and an AARP spokeswoman declined to comment further. But setbacks have been rare for Huppi, who ran offices in India and Pittsburgh before returning home in 1975 and winning acclaim for letting local managers run their shows. He sets tough financial targets, then lets the heads of Zurich's 266 business units decide how to meet them. Only when managers beat their targets do they collect bonuses.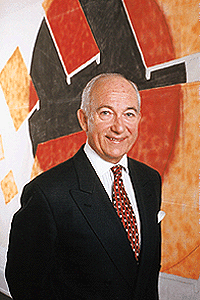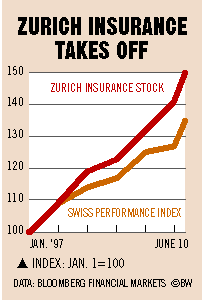 Some industry experts wonder whether Huppi is trying to juggle too much. In addition to the Scudder deal, Zurich in the past year has bought a stake in one of Poland's largest banks, entered into an insurance joint venture in Thailand, purchased a Norwegian insurer, and expanded its fledgling presence in China and Japan. Huppi is determined not to be left behind as the world's insurance goliaths rush to expand their reach. That's just the kind of hard-charging attitude you'd expect from a man who was running Zurich's Indian operations by the time he was 22.