Universal's Soon To Be Lost World
Without the Spielberg touch, the studio will have to scramble
by
As the scion of a family whose surname means "whisky man" in Yiddish, budding media mogul Edgar Bronfman Jr. understands the importance of distribution. Seagram Co., the family-controlled company he now heads, has an extensive network of 380 wholesale distributors in the U.S. and owns wholesale outlets in 39 other countries to sell its various brands of high-end hooch. When Seagram's Universal Studios Inc. unit released Steven Spielberg's The Lost World: Jurassic Park, it did so on 6,000 movie screens--one out of every five in the U.S.--and sold $92 million in tickets over Memorial Day weekend, a box-office record.
Distribution has always been king in Hollywood, as long as a studio had the product to disseminate. Thanks largely to Spielberg, Universal has long been a major player, and theater owners have lined up to show blockbusters like Jurassic Park and E.T., The Extra-Terrestrial. But The Lost World is the last movie Spielberg is likely to do for Universal for some time. After nearly three decades of making the likes of Jaws and Schindler's List for the studio, the director will now make most of his films for DreamWorks SKG, the studio he founded in 1994 with David Geffen and Jeffrey Katzenberg.
HEDGED BETS. To prepare for life after Spielberg, Bronfman and his top Universal executives, chief executive Frank J. Biondi Jr. and president Ron Meyer, have sealed deals with big-name talent, such as director Penny Marshall and actor Sylvester Stallone. But without sure things like The Lost World on the way, Universal must hedge its bets with far more films. At a time when other big studios are scaling back, Universal plans to double output, to about 24 films a year by 2000. It also spent $14 million to acquire a majority stake in arty film distributor October Films Inc. (Secrets & Lies and Breaking the Waves), which releases about 20 titles a year. To help bankroll so many films, Universal will soon complete a $1.1 billion financing arrangement with Citicorp, in which it gives up about 20% of any profits but retains healthy distribution fees.
As Universal rushes to shore up its position in its core movie business, itis contending with weakness elsewhere, especially in TV: The studio has no wholly owned distribution outlet for its television programs. Unlike rivals News Corp. and Walt Disney Co., it doesn't own a broadcast network. And unlike Warner Brothers, which has such strong cable channels as TNT and the Cartoon Network, Universal's only cable holding is half of the lightly watched USA Network. Against the more diversified entertainment giants, smaller fry "run the risk of someone else keeping [their] product off the air," says Cowen & Co. entertainment analyst Harold Vogel.
But Universal may be able to soon remedy its TV problem by buying the half of USA Network that it doesn't already own, gaining the control to program as it pleases. It got a big boost on May 15, when a Delaware Chancery Court judge ordered Universal and joint-venture partner Viacom to negotiate by June 13 the possible sale of the channel.
If Universal lands USA, it is expected to go shopping for a piece of a broadcast TV network or for more cable channels. As one of the most widely carried cable channels, piped into 70 million U.S. homes, USA is an attractive asset, despite its lackluster programming, which can easily be changed. Already, say sources close to Universal, Biondi has begun informal talks with NBC and CBS, the broadcast networks not affiliated with a big studio. Biondi is also talking to C3, the unit of cable giant Comcast Corp. that controls the E! entertainment channel, these sources say. Seagram declined to comment.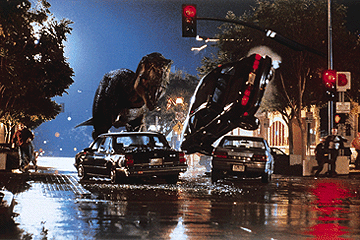 Biondi is offering TV networks a piece of USA, in return for slots on their prime-time schedules for Universal TV shows. Universal's TV fare could use the boost. While studios affiliated with networks are getting more shows on the air, Universal TV's network presence has dropped from 8 to 4 shows. To beef up, it acquired a half-interest in Brillstein-Grey, which has five network shows on the air, and has syndication hits in Hercules and Xena: Warrior Princess.
With the riches being generated by The Lost World and a revived music unit, Universal is counting on a strong 1997. But Bronfman and company intend to move quickly to buy the missing piece they still need: TV distribution. Then, they'll be able to survive among the carnivores of the entertainment world.
Before it's here, it's on the Bloomberg Terminal.
LEARN MORE