U.S.: Labor Market Woes Europe Wouldn't Mind Having
With U.S. joblessness low, cost pressures are building, and rates may rise
By
When the Berlin Wall came crashing down in 1989, a cynical refrain among economists was, "The cold war is over--and Japan won." Now, after massive and painful structural change, U.S. economic dominance in the world is no longer questioned. Japan is struggling with budget deficits and a fragile banking system, and a united Europe is beginning to fray under the strain associated with forging a single currency, the euro.
The May employment report drove this point home, especially regarding Europe. It showed that the U.S. unemployment rate dipped to 4.8%, down from the 23-year low of 4.9% hit in April. In contrast, Germany's jobless rate is a near-record 11.4%, and joblessness in France is at a record 12.8% (chart). Those high rates are the result of efforts to cut government deficits and inflation as Europe tries to converge economic policies in preparation for the proposed 1999 launch of the euro, which is aimed at enhancing competitiveness.
In fact, growing European concerns over joblessness could add a new element to the U.S. outlook: Recent French-led wavering on monetary union threatens to weaken the euro or even delay its start date, and that could affect the dollar.
In the long run, the euro is probably bullish for the buck. But right now, the dollar's trade-weighted value has fallen 4% since late April, mainly reflecting a 12% drop vs. the Japanese yen. The decline vs. the German mark has been only 1%, but further stumbles on the path to monetary union could add to that decline, as currency-market sentiment shifts from a soft euro to a strong mark. For the U.S., more softening in the dollar would fuel export growth and lift import prices. And upward pressures on production capacity and on overall prices are two developments the Federal Reserve does not want to see.
THAT'S ESPECIALLY TRUE in light of the May employment report, which only added fuel to the debate over the Fed's next policy move. The data gave no hint that labor markets were loosening in a way that would cool domestic demand or reverse the downtrend in the jobless rate and the climb in wage growth.
Although the May advance in payroll jobs was a less-than-expected 138,000, the Labor Dept.'s annual revisions significantly lifted the March and April increases. April payrolls are now said to have risen 323,000, instead of 142,000, and the March increase was revised to 182,000 from 139,000. So far this year, monthly payroll gains have averaged 229,000, up from 191,000 in the second half of last year.
A pace of about 200,000 jobs per month is sufficient to keep the unemployment rate heading down. The rate would be even lower right now if not for the rapid growth in the labor force during the past year, as better hiring conditions have attracted more job seekers. However, the labor force has been growing faster than the adult population, a situation that cannot be sustained indefinitely (chart). Indeed, in recent months, labor-force growth has appeared to be slowing, a key reason why the jobless rate fell further in May, instead of rising slightly, as was widely expected.
The May employment data did suggest that second-quarter growth in real gross domestic product is slowing sharply from its nearly 6% clip in the first quarter. The May workweek held at April's level of 34.5 hours, which was below the 34.7 hours averaged during the first quarter. The increase in overall hours worked this quarter suggests real GDP growth of about 2%.
However, economic growth may not stay down in the third quarter. Other employment indicators such as fewer new jobless claims, a high volume of help-wanted ads, the declining percentage of households who think jobs are "hard to get," and the latest Manpower Inc. survey showing strong third-quarter hiring plans all suggest continued healthy payroll gains. And that means new life for consumer spending.
IN EUROPE, the latest data point to just the opposite scenario. The Continent's high unemployment has depressed domestic spending and raised doubts about European Monetary Union, especially in France.
On June 9, the new French Socialist-led government stunned its EMU partners by requesting more time to consider the stability pact, a German-inspired agreement that enforces budgetary restraint among EMU members. However, on June 11, Germany softened its previous opposition to changing the pact and was willing to include language spelling out Europe's commitment to job creation and economic growth.
The irony of the French concern over jobs is that it may end up diminishing prospects for long-term improvement in the jobless rate and competitiveness, especially if France moves toward more social programs and labor market regulation. Such labor market rigidities pump up costs and reduce productivity, just the opposite of recent U.S. trends. Moreover, any short-run effort toward job creation runs counter to the cornerstone of monetary union: fiscal restraint.
That's why it is too early to tell how the EMU snafu will play out. Any delay in EMU would bolster the mark. A weaker dollar means increased U.S. exports will lift output. But it would also put upward pressure on import prices--which have offset price increases of domestic goods. U.S. goods inflation could edge up at a time when the Fed is more worried about inflation prospects than economic growth.
ONE MAJOR WORRY is wage growth. Strong U.S. labor markets continue to put upward pressure on pay, especially in the service sector. So far, productivity gains that are greater than those evident in the official data have prevented these higher costs from working their way into final prices. However, as labor costs continue to accelerate amid ever-tighter job markets, there is a limit to how much of these higher costs can be absorbed by productivity gains.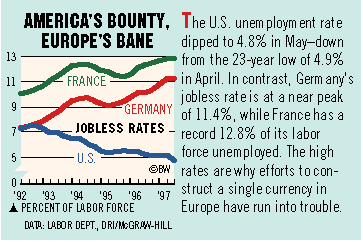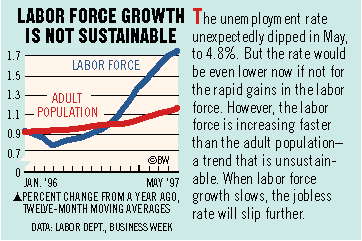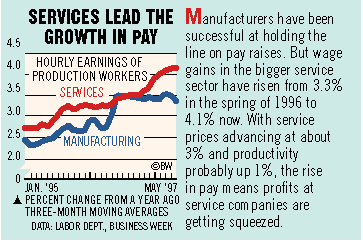 Manufacturers have been more successful at holding the line on wage growth than have service producers. During the past year, annual hourly-wage growth in manufacturing has remained between 3.3% and 3.5%. However, the growth rate of service pay has risen from 3.3% to 4.1%. With service price inflation at just over 3%, and assuming 1% productivity growth in services, the profit margins of many service businesses are probably starting to get squeezed.
The Fed's worry is not so much what rising wages do to a business's cost structure as what a bigger paycheck does for consumer spending. Right now, the data argue that households will restart their demand engines in the third quarter, leading to even more jobs and further increases in incomes. The Fed knows, however, that heading off potential inflation problems created by tight labor markets and robust domestic demand will risk political fallout. Still, policymakers in Europe can only wish they were so lucky.