The Right Moves Aren't Working...So The Drug Trade Is Roaring
By
The snowy peaks of the Tien Shan, or Celestial Mountains, shimmer above Bishkek like a heavenly promise. But promises aren't worth much in Kyrgyzstan's capital these days. Ernest Zholdoshov, a lanky 25-year-old in a skullcap and tracksuit, kicks the dirt outside his family's house in the dilapidated Kuznechnaya Krepost neighborhood. He has been unemployed since dropping out of the Agricultural University two years ago, when the government cut his stipend. His parents' pension checks are months overdue. A brother supports their six-person household by selling clothes at an outdoor market.
What's especially disturbing about this picture is that for five years, this nation of 4.5 million has done what Western advisers told it to. President Askar Akayev has given Kyrgyzstan perhaps the best reform record of any former Soviet republic. The shock therapy includes privatizing the economy, overhauling the tax code, slashing government spending, and liberalizing trade. But as a World Bank report politely puts it: "The economy has not yet generated a supply response." Kyrgyzstan needs capital to jump-start its economy, but to its dismay, foreign investors are wooing its oil-and-mineral-rich neighbors, even though they lag in market reforms. The nation's gross domestic product shrank by almost half from 1991 to 1995. The government says unemployment is 20%, but most people say it's over 50%. Kyrgyzstan has fallen from 31st to 99th place worldwide in a U.N. standard-of-living index.
True, there are a few encouraging signs. The economy grew an estimated 5.6% last year, after a 1% gain in 1995. "If only they had the same natural-resource base as other countries in the neighborhood, they'd be way ahead," says Michael Rathnam, the World Bank representative in Bishkek. If only. Kyrgyzstan's best hope is to develop a hydropower industry, but that will take years and massive investment.
ABANDONED. Some of the contraction may actually be beneficial. Declining livestock production is letting the country recover from overgrazing. And the population seems willing to stay the course with Akayev rather than let the Communists return. He won a second term in 1995, with more than 60% of the vote, in the first multiparty presidential election in Central Asia.
This seems even more remarkable given the unraveling of the social fabric. School attendance is dropping as parents send their children to hawk cigarettes on street corners. In Bishkek, a city of 600,000, more than 250 children a year are abandoned.
Even some reform advocates fear the nation is being left in the lurch. Kyrgyz-stan has received $400 million in foreign aid since 1991. But much of it supported the reform effort, now winding down. U.S. aid dropped from a peak of $90 million annually to about $50 million this year. "I'm not sure the donor community is giving Kyrgyzstan enough as a reward," says Ercan Murat, chief of the U.N. Development Program mission. Bishkek physician Talaibek Djailoyev, noting that nearly all pregnant women are anemic because they can't afford meat or milk, puts it more simply: "I am afraid for my country."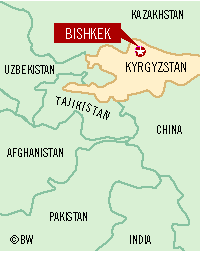 At least one sector of the economy is growing at a fast clip. Drug smuggling across Kyrgyzstan's mountainous border has grown an estimated three hundredfold in the past five years. Opium and heroin flow from the "Golden Crescent" of Pakistan and Afghanistan into Tajikistan and on to Russia and Europe. Neighboring Uzbekistan is clamping down with a new death-penalty law for drug dealers. Kyrgyzstan's laws are more lenient, and its economic plight is luring people into narcotics deals. "In some regions, the only way to survive is to take part in the drug trade," says Askarbek Mameev, chairman of the State Commission on Drug Control.
Historically, drugs hold little allure for most Kyrgyz, a Muslim people who pride themselves on toughness. But now, Kyrgyz are growing poppies and setting up labs. And some of the drugs are staying in the country: Mameev estimates that 50,000 people are addicted. Just another reason the country's path for the next few years looks as steep as the peaks of the Tien Shan.