National Patent: Ready To Rise From The Dead?
by
Remember high-flying National Patent Development (NPD)? Since its stock hit 120 in 1983, it has been a bottom-hugger: The shares dived to 48 in 1986 and sank to 61/8 by mid-1997. The stock has since crept up to 71/2.
"Now it's a bargain." So says Ralph Wanger, president of the $6 billion Wanger Asset Management, who recently raised his stake to nearly 5%.
Because of the deep plunge, National Patent, which had acquired a number of assets--such as a device called Caridex meant to treat cavities--and big stakes in varied companies--including 17% of Interferon Sciences--has been scorned on the Street, admits Wanger. "I think management has recognized what needs to be done to turn the company around," he says. The stock could leap to 20 in two years, he adds.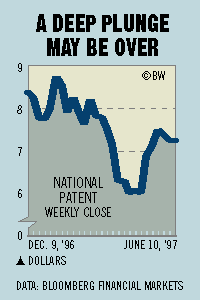 Management sold assets to pay off debt, now $6 million. The company's near-demise was caused by huge borrowings in the 1980s to finance products that met with scant success.
CEO Jerome Feldman intends to turn National Patent into one operating company based on General Physics, which provides training and technical support to such customers as General Motors and the U.S. Army Corps of Engineers.
After other sales, National Patent's liquid assets will come to $80 million, equal to the current market cap, estimates Feldman.
Rick Nelson of New York's Furman Selz figures the company will earn 16 cents a share this year and 57 cents next year.
Before it's here, it's on the Bloomberg Terminal.
LEARN MORE