Britain: A Preemptive Strike Against Inflation
by
The newly independent Bank of England displayed its autonomy on June 6 by hiking interest rates. The base rate rose to 6.5% from 6.25%. Mortgage rates were quickly lifted higher, by a larger one-third of a percentage point.
The BOE move underscored the central bank's hawkish inflation view amid continued signs of an upbeat economy. The question among some analysts is whether the rate hike--the second in a month--comes too late.
That's because the latest data show that the second-quarter economy is growing at close to the 3% yearly pace recorded in the first quarter, and some private economists forecast a 4% advance for all of 1997. Total industrial output rose 1.2% in April, as energy and fuel production surged. Manufacturing output alone rose a solid 0.6%, to stand 2.3% above its year-ago level.
The output gains indicate that healthy domestic demand is offsetting the weakness in exports caused by sterling's 18% runup against the dollar since last August. Rising interest rates simply mean the pound will strengthen further. Already, exports have dropped sharply in four of the past five months.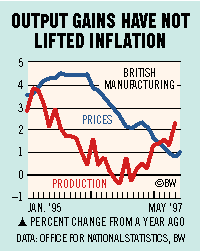 But spending at home is doing well: Retail sales have risen for four straight months, and in April, sales stood 4.7% higher than a year ago. Unlike the rest of Europe, Britain has seen great labor market improvement, which has led to the pickup in consumer spending. The jobless rate slipped to 5.9% in April, the lowest reading in nearly seven years.
Increased factory production has not yet translated into capacity problems or rising inflation (chart). In fact, producer prices at the factory gate rose only 0.1% in May, and the yearly inflation rate is just 1%.
However, in today's world of preemptive monetary policy, the BOE's rate hike was not unexpected. Like the U.S. Federal Reserve, the British central bank is tightening before inflation becomes entrenched. And with the economy looking strong, the betting is that the BOE will have to hike at least once more in the second half.
Before it's here, it's on the Bloomberg Terminal.
LEARN MORE