Wireless Talk Keeps Getting Cheaper
New PCS competitors are pushing down wireless rates
By
For longtime cellular customer Bridget Cavanaugh, PCS has come to mean "pretty cheap service." As a senior manager at Dallas-based PageMart Wireless Inc., a paging company, Cavanaugh, 31, used to rack up cellular phone bills of $350 a month because she would gab for 200 or 250 minutes. But in February, her wireless bill got chopped down to size. PrimeCo Personal Communications started offering 500 minutes of wireless calling for a mere $55. "I have to work hard to talk for 500 minutes," says Cavanaugh. "For me, it's a great deal."
Cavanaugh is the happy beneficiary of what happens when competition flourishes in phone markets. For 12 years, only two companies have been able to offer cellular service in each U.S. city. That kept price drops modest and innovation infrequent. Now, as many as three more rivals are joining the wireless fray in each market. They are the companies launching PCS--short for personal communications services. Among the biggest providers: Sprint PCS, AT&T Wireless Services, and PrimeCo, which is owned by three Baby Bells and AirTouch Communications.
NEW YORK MINUTES. Wherever it's introduced, PCS tends to drive down wireless prices. Per-minute charges are dropping an average of 10% to 15% this year in U.S. cities--not counting special promotions. New York City is a case in point. As the PCS players began arriving last fall, AT&T Wireless Services Inc. dropped some cellular rates 25%. In March, as Omnipoint entered the fray, AT&T Wireless and Bell Atlantic Nynex Mobile started offering up to 1,000 minutes of free off-peak calling. Now, Omnipoint Corp. is offering PCS phones for $50, a third of what it used to charge. "As you increase the number of competitors, you're starting to see price pressure," says Daniel Hesse, president and chief executive of AT&T Wireless Services.
PCS also offers consumers more flexibility. Unlike cellular carriers, many PCS operators don't require that customers commit to long-term contracts. What's more, because PCS is digital, it can offer features not found on typical cellular systems: paging, caller ID, and notification when you use up your monthly allotment of minutes. One drawback: Because PCS isn't as widespread, you can't use your PCS phone in as many places as you can use a regular cell phone.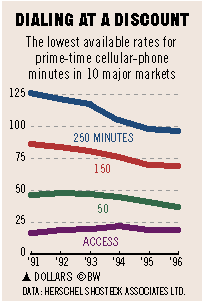 The PCS gang is sacrificing profits now because they expect the market to grow so rapidly. Herschel Shosteck Associates Ltd. says the percentage of Americans with wireless phones will triple over the next 10 years, to about 45%. "Wireless has the potential for taking a bigger and bigger share of the total phone calls people make," says Andrew Sukawaty, CEO of Sprint PCS.
Still, with so many competitors in each market, some PCS companies are bound to fail. Already, Wall Street has sold off shares of 360 Communications and AirTouch, which are down 21% and 12%, respectively, over the past year.
The dominant players will be those that have financial strength, management expertise, and the ability to bundle wireless with other services. "It'll be a great decade--for the winners," says Sam Ginn, chairman and CEO of AirTouch. Right now, the only clear winners are Cavanaugh and other consumers.