U.S.: What Could Spoil The Profits Party
Revenues are strong, but costlier payrolls threaten to squeeze margins
by
It's getting tougher to make a buck. Throughout this six-year expansion, Corporate America has been on a roll, as massive cost-cutting and efficiency gains have boosted not just profits but also the ability to squeeze more earnings from a unit of output. In coming quarters, however, the economic climate is shaping up to be a lot less profit-friendly, especially with regard to costs. And investors who have gotten used to double-digit gains in earnings may have to lower their expectations to single-digit territory.
Revenues will not be the problem. The Commerce Dept. revised first-quarter growth up slightly, from 5.6% to 5.8%, and businesses benefited greatly from that strong demand. Based on a roundup of first-quarter earnings, Commerce says that before-tax operating profits, which exclude special charges and use replacement-cost accounting for inventories and depreciation, rose a robust 7% from the fourth quarter, to $716.8 billion. Earnings were up 8.4% from a year ago.
Moreover, the latest data, especially from the nation's purchasers, strongly argue that the April slowdown in demand was only temporary, with the economy appearing set to chug along in the second half, perhaps at a faster clip than most analysts now expect. And even though the numbers still indicate second-quarter real GDP is growing by only about one-third of its blistering rate of the first quarter, that pace should be good enough to generate healthy sales gains.
PROFIT GROWTH, HOWEVER, may not look as rosy as revenues because of the emerging constraint from the cost side of corporate ledgers, as tight labor markets lift the expense of hiring workers. In fact, all of the acceleration in first-quarter profits came from the burst in revenues. Costs, especially wages and salaries, continued an uptrend that began in early 1996.
As a result, margins already appear to be under pressure, even amid robust economic growth. Nonfinancial companies generated 12.6 cents in profits from each dollar of real GDP last quarter (chart). True, that matches the high for this expansion. But after steadily gaining ground during this expansion, unit profits last quarter were no higher than they were in the second quarter of 1996.
Moreover, in an economy this strong, profits are running behind their past performance. The last time economic growth was close to the 4.1% pace of the past year was in 1994, but back then, profits were rising nearly twice as fast as now. Why? Because in 1994, the growth rate of labor costs was still falling.
Going forward, profits face a big test in the second and third quarters. Labor costs will continue to rise faster, especially if the labor markets remain as tight as they are. In addition, productivity gains always are harder to achieve later in an expansion when job markets tighten, mainly because those entering the labor force tend to be at the lower end of the skill spectrum--and thus less productive. With the Federal Reserve intent on keeping pricing power under wraps, profits seem destined to get squeezed.
Rising interest costs also will become a factor if the economy doesn't slow down in a lasting way that will keep the Federal Reserve out of the picture. A stubbornly strong economy may provoke the Fed into further interest-rate hikes to ensure that inflation remains down. Of course, that could lead to a problem for sales growth in 1998.
CERTAINLY, THE MAY DATA show a stronger economy than the April reports did. The April index of leading indicators fell 0.1%, but that decline was caused by higher initial unemployment claims and lower stock prices, both of which sharply reversed course in May. Also, factory orders rebounded 1.2% in April, recovering almost all of the 1.3% drop in March. And while inventories rose 0.6%, shipments rose twice as fast, suggesting that inventories remain extremely lean.
May's biggest growth signal came from the National Association of Purchasing Management (chart). Their composite index of industrial activity, which includes output, orders, employment, inventories, and delivery times, jumped to 57.1%, the highest in 2 1/2 years. Orders rose to the highest reading in nearly three years. That acceleration came entirely from domestic demand, and foreign orders continued to rise. The purchasers' report also noted that prices paid fell in May.
Inventory constraints surely contributed to stretched-out delivery times in May. The vendor delivery index rose to 55.2% in May, signifying the longest time for deliveries in two years. The NAPM report suggests that output will continue to increase throughout the summer.
For the profit outlook, though, restocking warehouses and shelves could add to the cost problem. Inventories will have to be rebuilt using labor that is more expensive than a year ago. In addition, with some goods taking longer to be delivered, businesses may have to pay more to get items in hot demand by consumers.
INDEED, THE PICKUP in domestic orders suggests that retailers consider the April weakness in consumer spending to be temporary. Both real consumer spending and real disposable income were flat in April, following huge gains in the first quarter. The numbers suggest that real consumer purchases are on track to rise by only about 2% this quarter.
Consumer fundamentals, however, still argue for a resurgence in buying in the second half. For instance, real consumer spending rose a solid 2.7% during the past year, but real income is up 4.5%, even with no gain in April (chart). That means consumers are saving more. In April, the savings rate stood at 5.1%, up from 4.3% in the second quarter of 1996. Some of those savings are headed into equities, mutual funds, and pension plans. And the stellar returns of the stock market are another reason why consumers feel more confidence in the economy's future.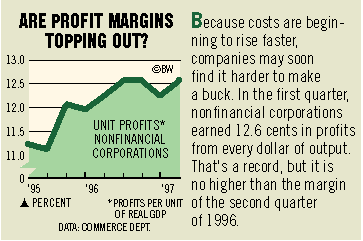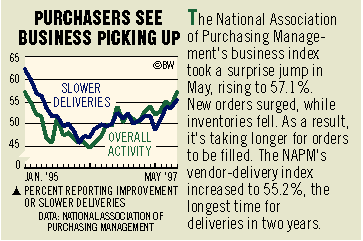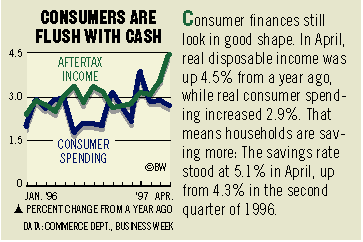 Of course, the interplay of stocks and profits has been on the mind of Alan Greenspan. The Fed chief noted back in February that given prevailing interest rates, stock prices "could be justified by very strong earnings-growth expectations." But he also warned that "small changes in long-term earnings expectations could have outsized impacts on equity prices." In other words, prospects for slower profits growth could whipsaw the market and raise a caution flag among equity-toting consumers.
For now, that's just speculation. What seems more certain is that sturdy consumer fundamentals and a vibrant industrial sector suggest a stronger economy after a spring pause. That rebound, however, will only tighten labor markets further and create more production bottlenecks. That's why, for the rest of 1997, the profits battle will be fought not on the revenue side of the income statement, but on the cost side.
Before it's here, it's on the Bloomberg Terminal.
LEARN MORE