Tough Love Pays Off For Warsaw's Bourse
Western-style rules have investors--and companies--pouring in
Peggy Simpson
People scoffed when the Warsaw Stock Exchange opened in 1991. With its insistence on tight regulation and transparency, the new exchange drew only five listings. But those stiff rules are paying off now, as Warsaw rapidly gains credibility over its archrival, the Prague Stock Exchange. With listings up to 105 and dozens more on the way, Warsaw is attracting investors who are shunning Prague, where regulation is weak and trading is light.
Warsaw's popularity with international investors is getting its new boost thanks to a rush of initial public offerings. The issues, analysts say, could increase the market's $10 billion capitalization by 50% by yearend and double it, to $20 billion, by late 1998. "There is an acute interest right now in Polish issuers," says William K. Sievers, managing partner of law firm Weil, Gotshal & Manges. "Investment bankers are running all over Poland." Meantime, analysts say a key reason that the Warsaw index is off this spring (chart) is because some investors are on the sidelines, waiting to pounce on ipos this summer and fall.
The surge in ipos is fueled by entrepreneurs after expansion capital and a flurry of big privatizations. This spring, the government accelerated sell-offs of high-profit state-owned giants, including the copper and telecom enterprises. Bank Handlowy, Poland's third-largest bank, is scheduled for listing in June. Also this month, the 15 National Investment Funds, which together manage more than 500 state-owned companies, will be listed. The nifs have some 31 million shares outstanding, most owned by individual Poles.
The funds alone could add 30% to Warsaw's market cap. But even more interesting, they will also bring some of their holdings to market. Each of the nifs manages a portfolio of 34 companies. Some of them are dogs. But execs from the funds are working closely with the best ones, aiming to duplicate the success of particleboard maker Grajewo. A fund run by Creditanstalt helped Grajewo ceo Jan Kowalski get $12.5 million in interim bank financing in 1996 so he could meet building-boom demand. With the company prospering, Kowalski raised $15.7 million in an ipo in January. Offered at $28.60, Grajewo's share price has since surged as high as $45.40.
EXPERT HELP. For the more daring, Warsaw has an over-the-counter market, too. Opened in December, it has only three listings: a municipal-bond fund, machine-tool maker Rafamet, and grain miller Boleslawiec. But that is set to expand to at least 25 names by yearend, thanks in part to institutions such as the World Bank that donate expertise to help companies comply with disclosure requirements. Two candidates for summer listing: software producer MacroSoft and telecom company Szeptel.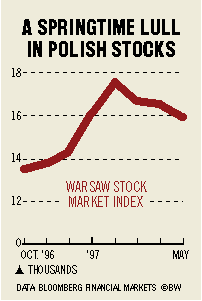 The new offerings are proving popular. Take Glenn Wellman, a London-based managing director of Credit Suisse Asset Management, who is responsible for investing $500 million in central and eastern Europe. He has bought eight new Polish issues so far this year, including textile maker Lentex and Atlantis, a producer of steel panels. Wellman now allocates nearly 30% of his funds to Poland, up from 20% last year.
Poland has caught the attention of foreign investors, who now account for about 30% of the market turnover. The hope is that the flood of ipos will diversify and deepen the Polish market. The Warsaw Exchange's rise could just be starting.
Before it's here, it's on the Bloomberg Terminal.
LEARN MORE