Israel: Pesky Inflation Is Keeping Rate Cuts At Bay
Neal Sandler
After a year in power, Prime Minister Benjamin Netanyahu continues to face a deteriorating economy. And with inflation still high, the economy won't get any more help from monetary policy.
The Finance Ministry has cut its forecast for Israel's growth by one percentage point, saying real gross domestic product will rise only 3% in 1997 (chart). That's half the rate of the past six years, when mass immigration from the former Soviet Union and the Mideast peace process had helped to boost growth.
The slowdown reflects this year's expected drop in business investment and only moderate gains in consumer demand--amid dropping immigration and rising unemployment. The jobless rate fell to 6.4% in the first quarter, from a record 13% in 1992 at the peak of the Soviet influx. But with growth slowing, private economists say the jobless rate could edge back up to 8% by yearend.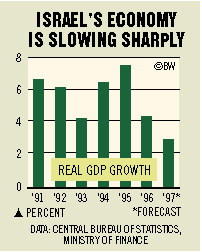 Moreover, growth is weakening because the Bank of Israel tightened monetary policy last year to rein in rising inflation. The key discount rate reached 17% by July, before the central bank began to ease policy by trimming the rate to 13.9% by February, 1997. But BOI Governor Jacob A. Frenkel has made it clear that any more cuts will depend on improvement in inflation. Consumer prices in April rose a less-than-expected 0.7%, but yearly inflation stood at 9.4%, a rate at the high end of the government's target. As a result, the BOI kept rates unchanged at its May 26 meeting.
The best news for the outlook is on the trade front. Exports are set to grow 8% this year, helped by a continued boom in high-tech shipments, which are surging by more than 20%. But economists say that exports will have to grow at a far faster rate to lift overall growth back to its previous rapid trend. Exports, though, are unlikely to rev up further, and the BOI may not cut rates again anytime soon. As a result, Israel in 1997 could struggle with its worst economic performance in nearly 10 years.