Is Metrobank Generous To A Fault?
Some fear its portfolio quality is falling as its loan book swells
Hugh Filman
It was a moment any banker would cherish. Antonio S. Abacan Jr., president of Metropolitan Bank & Trust Co., could only smile as he looked out at a crowd of 250 new depositors who had flocked to the opening of a branch in the upscale Greenhills area of Manila. In their tailored suits and fine jewelry, the new clients represented precisely the upwardly mobile, middle-class depositors Metrobank wants. Since the bank opened its first branch in Manila's Chinatown 34 years ago, management has prided itself on knowing its customers' needs--and it still does, even though it now has $8.8 billion in assets and runs the largest banking network in the Philippines.
GOOD DEALS. Abacan also has shown that he can stand up to new competition. Since the Philippines implemented a banking-reform package two years ago, 10 foreign lenders have set up shop, in addition to the four other big international banks that were already in business. While all foreign banks together have garnered 9% of the nation's commercial bank loans, Metrobank and its subsidiaries still account for a 12% share. Moreover, partly by blitzing the rising Filipino middle class with offers of car and home-mortgage credit, Metrobank's loans have risen by roughly 40% annually for the past two years.
Despite such progress, investors have suddenly become jittery over the bank's prospects. Analysts worry that the quality of Metrobank's portfolio is being diluted as the size of its loan book surges. They fear that Metrobank and other Filipino lenders could be vulnerable to the sort of property collapse that is shaking Thailand's banks and raising concerns about a possible currency devaluation. Such concerns have pummeled the Philippine stock index, and Metrobank's shares have fallen to $21.10, from a 1997 high of $28.06 in February (chart).
Metrobank officials maintain that investors have nothing to fear. Executives say loans to property developers make up around 6% of the value of its lending portfolio, and a modest 1.7% of its loans are past due--half the local industry average. Abacan adds that Metrobank's loan growth stems from an aggressive expansion of its branch network, which grew from 215 offices in 1993 to 335 in 1996. An additional 35 are planned this year. But he has also maintained Metrobank's historically close relationship with the entrepreneurial Chinese community, which makes up 60% of its business. Virtually every Metrobank branch has at least a manager or an assistant manager who speaks Chinese.
EARLY DAYS. Most of the bank's Chinese-speaking customers run family companies in manufacturing and trade and have helped make Metrobank the primary lender to small and midsize enterprises in the Philippines. "We started with the smaller businesses and stuck with them," says Metrobank Chairman and founder George S.K. Ty. "Some of them are billionaires now, and they've stuck with us."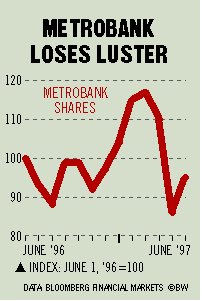 Abacan is taking advantage of Metrobank's Chinese links to draw in more Taiwanese doing business in the Philippines, and this year, he plans to open a fourth Taiwanese branch. He is also targeting more Japanese business--setting up a Japanese desk in Manila, opening a Tokyo branch, and taking a 35% stake in the Philippine subsidiary of Toyota Motor Co. "Any Japanese business that is related to Toyota is dealing with us," says Abacan, who is setting up a joint venture with Tokai Bank Ltd. to target other Japanese investors.
Despite its international ambitions, Metrobank's heart--and most of its business--remains at home. To some investors, worried that a Thai-style retreat could hit the Philippines, that is cause for concern. But Ty, a 64-year-old, Hong Kong-born tycoon and real estate developer himself, insists that he is on the right track. "We are very careful," he says. Getting the market to accept that message, though, is another thing altogether.