How To Play This Market
Wall Street still has lots of avenues--if you know where to look
These days, even those investors who think they've seen it all can be found shaking their heads in disbelief. With each new record it sets, the stock market both amazes and troubles investors. How long, they ask themselves, can this go on? Convinced the good times can't last, more and more wonder whether they should pull back. Better safe than sorry.
Trouble is, if investors had followed that advice two years ago, or a year, or even six months, today they would be safe and sorry. Stocks that looked fully priced a year ago, when the Dow Jones industrial average was at 5700, now look to have been a steal. Little wonder that after the stock market sold off this spring in the wake of Alan Greenspan's musings about irrational exuberance and worries that inflation might revive, investors soon flocked back to stocks. Regret, as much as greed, has been a powerful motivator.
More than anything else, though, it's the economy's strong showing that provides the critical underpinning for this market. Low inflation, low unemployment, strong productivity gains, and healthy profits are propelling growth, and there are few signs of pressure or trouble ahead. To be sure, the Federal Reserve may opt to crank up the key fed funds rate a notch in July. And wage gains, instead of being tame, could trend higher, which will certainly raise the odds of higher interest rates. Investors will have to be on the lookout.
While it may be reasonable for investors to worry, there's no need for them to run for cover. Instead, BUSINESS WEEK recommends a discriminating approach. There are ways to play this market, from searching out new values in the technology area to taking a gander at some merger stocks.
The recent beating Intel Corp.'s stock took on disappointing earnings projections didn't rattle the tech sector as it might have a few months ago--even small-cap tech stocks weathered the news admirably. Indeed, tech stocks may yet have a lot of room to run. Profits at tech companies are still strong and expected to do well the rest of the year. The pros are definitely focusing on the smaller ones, though. Of course, if you're wary of doing your own stockpicking, you could leave the job to someone else. Be forewarned: About 95% of mutual fund managers were trounced by the Standard & Poor's 500-stock index this year.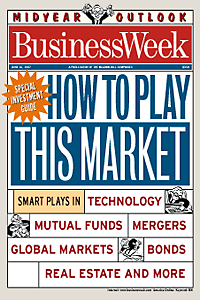 Then, too, there are other territories to stake out--from bonds to overseas markets to real estate investments. The supply of new bonds is shrinking, making it harder to find worthwhile investments, but there are some smart plays. The pros make eclectic selections overseas--from a Swedish computer-services company to a Hong Kong-based manufacturer of corrugated packaging--but most agree there are good buys in Europe. Real estate investment trusts (REITs), meanwhile, have gained some respectability and offer a good shot at steady, low-double-digit returns.
With the market at these breathtaking heights, this is no time to step out without taking a few precautions, and BUSINESS WEEK shows the way. As always, there's a collection of stocks only a short-seller could love. And the growing popularity of online investing not only makes investing more efficient but also introduces plenty of perils. For the hardy investor, though, such potholes are no obstacle--nor is an already lofty market. There's still money to be made out there.
Before it's here, it's on the Bloomberg Terminal.
LEARN MORE