Harken Bubbles Up Over Colombian Oil
By
There's nothing like talk of a big find to get oil investors excited. In this case, the stock is Harken Energy (HEC), an oil-and-gas producer prospecting for oil in the U.S. and Colombia, where it is the third-largest property holder, with rights to 1 million acres.
The company will soon reveal "early estimates showing significant oil generation" in the three areas it is exploring in Colombia's Middle Magdalena Basin. That's the word from a few oil-patch watchers--and it has investors buying.
David Snow, head of Energy Equities, a Wayne (N.J.) researcher, says Harken has not yet told analysts much about its initial findings from these prospects. "But early estimates have been 1 billion barrels," he asserts.
Snow says a Houston consultant thinks "oil generation and accumulation could occur throughout [Harken's] acreage." This conclusion, he adds, led Harken to engage Holditch & Associates, an engineering group, to do an assessment. Snow says Holditch reported a major "potential for oil accumulation...in Catalina," where the Magdalena fields are located.
Observers expected the company to discuss its findings at the annual meeting on June 9. Harken hinted as much in a press statement earlier this year announcing its drilling plans. The company said: "Recent analysis has increased optimism about potential discoveries in Colombia." Harken has allocated $60 million for drilling over the next two years.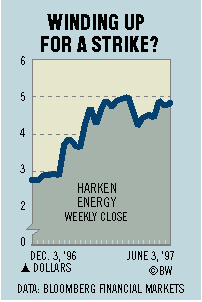 Analyst Paul Hayes of Oppenheimer, also bullish on Harken, says that a strike at any of the exploration sites would have a big impact on the stock. The analyst's 12-month target for the stock is 11 1/2 a share. It currently trades at 4 3/4 on the American Stock Exchange. He expects Harken to turn a profit this year--of 5 cents a share--followed by a profit of 17 cents in 1998 and $2 in 1999.
Snow forecasts even bigger numbers for 1999: Based on his estimates of reserves in Harken's prospects in Catalina of $15 a share, he sees earnings of $3 to $4.50 a share. Big institutions have been snapping up shares, raising their stake in the 120 million shares outstanding from 20% to some 30%. One of them--Harvard Asset Management--owns 8 million shares. Harken management and directors own 20%.