Brighter Days At Clorox
Its solid numbers stand out in a slow industry
Joan O'C. Hamilton
Who would have guessed that by making the household cleaner Pine-Sol smell like a lemon, sales would take off? Or that masking the odor of chlorine could help decades-old Clorox bleach eke out additional market share? This isn't exactly splitting the atom, but such modest innovations at Clorox Co. have helped the staid bleachmaker clean up.
Under Clorox Chief Executive G. Craig Sullivan, tinkering of this kind has become standard. Since moving into the top spot five years ago, Sullivan, 57, has been on a mission to make his stable of established brands grow faster. His managers got the message. When Pine-Sol execs surveyed customers about the venerable floor-and-wall cleaner, they found that most of them didn't actually like the smell of pine. So Clorox cooked up the oxymoronic "Lemon-Fresh Pine-Sol" and watched as annual shipment growth for the line shot up from less than 10% to more than 26% over the next two years. Concludes Glenn R. Savage, Clorox' marketing director: "There's power in giving people very clear objectives."
The Oakland (Calif.) bleachmaker is feeling that power surge across the organization these days. To cut costs, Sullivan made the usual tough decisions, discarding entire divisions and eliminating complacent managers. But Sullivan didn't just chop; he set ambitious growth targets and demanded new product introductions from the broad palette of Clorox brands--from bug poisons to barbecue products. He also made a string of acquisitions to pave the road for future growth.
Those moves have helped boost operating earnings by more than 10% a year since 1993. When the fiscal year ends on June 30, analyst Lynne R. Hyman of Credit Suisse First Boston Corp. expects them to hit $463.5 million. Sales--likely to top $2.6 billion for the fiscal year--grew at a healthy 16% last quarter after topping 10% annually for the past three years. Wall Street, loving every minute of it, has pushed the company's shares up 48%, to 125 7/8, in just a year. That's almost three times higher than when Sullivan took over. Says Donald Yacktman, president of Yacktman Asset Management, which holds Clorox stock: "Sullivan has done an excellent job."
In an age when high-tech gizmo makers can double sales every couple of years, 10% growth may not sound excellent. But when the personable native New Yorker became CEO in 1992, he inherited a stagnating company in a slow-growing industry. Clorox had become content with annual sales that expanded in the very low single digits.
LEMON TWIST. With more than 25 years at the company, starting in sales in 1971, Sullivan seemed an unlikely choice to stir Clorox from its slumber. But shortly after assuming the reins, he called for an intense, across-the-board analysis and assembled a strike force to recommend and implement strategies. In its favor, the company owned one of the classic American brands in Clorox bleach, as well as such familiar names as Formula 409 spray cleaner, the Kingsford barbecue lines, Combat bug poisons, and Hidden Valley Ranch salad dressings. If the company could identify uncrowded niches, Sullivan reasoned, there was an opportunity to expand the reach of those brands.
In saturated or contracting markets, that meant figuring out how to take market share away from competitors by making old products seem new. Clorox bleach, for example, has long held more than 60% of the liquid bleach business. But research showed that some consumers hated the smell of chlorine. By adding a squirt of floral scent or a twist of lemon, Clorox wrestled a full share point away from much less expensive generic competitors.
Sullivan also put costs under the microscope, slashing everything from airline deals to coffee-service bills. But he went deeper than simply reviewing contracts; he reviewed the underlying economics of all Clorox businesses, shedding those that sapped the bottom line. Three, for example, that sold appliances and frozen foods to restaurants and bottled water to offices, accounted for 10% of the company's sales, 26% of its employment, and a dismaying 0% of its profits. Soon all three were gone. "This is not rocket science," Sullivan says. "But it was new for Clorox."
Also new to Clorox is much of its management team. Almost half the old-timers left after Sullivan made it clear that anyone unwilling to make a significant course correction had best move on. Those were tough moves for a man who came up through the ranks, but the changes, he says resolutely, "were all about growing shareholder value." For those who stayed, Sullivan beefed up the bonus plan, and pushed it four times deeper into the organization, rewarding some 200 managers for making their numbers.
LOOKING OVERSEAS. Those bonuses have undoubtedly been adding up: In 1993 Clorox home cleaning products held about a 22% share of a market growing at about 1% a year. Today, Clorox' share of the $2.3 billion market has increased to 26%. "There was a perception of Clorox as an also-ran to P&G," says Hyman. She says that has changed and points to a recent battle in surface cleaners. Just before Sullivan took over, P&G introduced Cinch, a cleaner that could be used on glass as well as counters. Instead of building a new brand to compete, Clorox tweaked its Formula 409 to eliminate streaking on glass and promoted the improvement heavily on TV. From an initial 8% market share, Hyman says, Cinch shrank to about 3%; meanwhile, 409 jumped from 17% to 20%.
Sullivan's biggest opportunity for growth may lie overseas, however. In 1993, sales outside the U.S. represented only 4% of Clorox' total; Sullivan wants to increase that to 20% by 2000. And by the end of the last fiscal year, he was more than halfway there, with about 14% of sales from overseas. Most of that gain has come through acquisitions. Of the $1 billion spent on 26 new businesses since 1992, 23 were based outside the U.S., mainly in Latin America. Sullivan's next beachhead is Asia, where bleach is much less widely used. Here, the company will probably pursue joint ventures and alliances, not outright acquisitions, according to Peter Louras, group vice-president for international.
Sullivan has not overlooked opportunities at home, either. In 1994, he bought the premium steel-wool pad S.O.S. from Miles Inc. for $116 million. In January, Clorox completed its $360 million acquisition of Armor All, a line of car cleaners and protectants. Like the Clorox of old, Armor All suffered from high overhead and marginal acquisitions. However, with no deep-pocketed competitors, Hyman says, Clorox should be able to "jump-start what had become a tired business."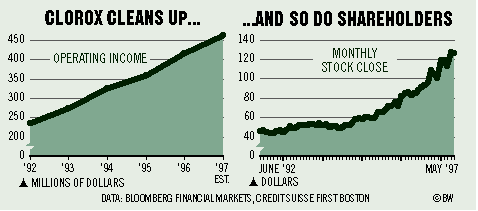 Success has inspired Sullivan to raise the bar, bumping up the millennium sales target to $3.5 billion from $3 billion. To achieve that, annual sales growth has to inch up to 12% from about 10% in each of the next three years--and Clorox is on track: In the first three fiscal quarters of 1997, growth was about 15%. Sullivan says he is "bound and determined" to hit those growth targets. Cutting costs is fine, says Sullivan, but "the only place you get the beef is by growing the businesses." So far, Sullivan has shown himself to be a man with a healthy appetite.