Behind The Assault On Dassault
By
This French company--Dassault Systemes (DASTY)--is little-known on Main Street America but is big with the bluest of U.S. blue chips: IBM, Boeing, Chrysler, Microsoft, and Lockheed Martin, to name a few. IBM owns a 10% stake.
Dassault, trading at 64 a share with a price-earnings ratio of 49 (based on its estimated 1997 earnings), isn't a giveaway. But this is a stock the pros have been chasing: "It continues to beat analysts estimates and shows continued quality top-line growth and good margins," says money manager Ivor Farman of Goldman Sachs Asset Management in London.
A leading developer of computer-aided design (CAD), manufacturing, and engineering software products, Dassault's specialty is creating software systems for three-dimensional mock-ups. That lets manufacturers cut costs by reducing production time: Its mock-up designs let manufacturers buy parts specifically tailored to a particular product. In the U.S., Chrysler, for instance, uses Dassault's computer-aided 3-D software called CATIA Solutions, as do both Boeing and Lockheed Martin. Worldwide, the company serves the auto, aerospace, railroad, and shipping industries.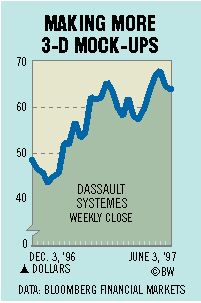 Dassault plans to release its first Internet application in the summer. The Internet product, which will enable small businesses to use CATIA in their factories, "will be a very big market for Dassault," according to Farman.
The Internet product will let non-CAD users navigate through product models from any computer, explains Morgan Stanley analyst Alkesh Shah. "It will provide low-cost access to internal and external product information."
Shah's target for the stock is 77, based on a 33 p-e ratio on his 1999 earnings estimate of $2.30 a share. For this year, he expects $1.60 and in 1998, $1.90.