U.S.: Don't Be Fooled By April's Slowdown
by
Confident consumers are likely to lead stronger third-quarter growth
The economy is backing down from its overly aggressive pace, right? The April data certainly looked that way. And by not raising interest rates on May 20, the enforcers at the Federal Reserve seem confident that the slowing trend will continue.
But the May numbers are starting to tell a different story. High consumer optimism and early-bird glimpses of everything from car sales to retail buying to job growth suggest that the economy is especially sturdy right now and that it isn't going to go down without a fight.
Looking at gross domestic product, second-quarter growth is slowing from its rambunctious first-quarter pace, perhaps sharply, to a Fed-friendly 2% or less. One possible restraint on growth could be a smaller inventory accumulation than in the first quarter, when stock levels shot up. But even here, the size of the drag is not yet clear. Inventories remain very lean relative to sales, and factory orders are still rising (chart).
Given the first quarter's surge in imports, it may be that many of those inventories came from abroad, in which case the onus of reducing them would fall more on foreign producers, not on U.S. manufacturers. Any slowing in imports would count as a plus for gross domestic product, offsetting some of the inventory drag.
Bear in mind, though, that even if second-quarter growth slows to 2%, the first-half average still is 4%, the same as the pace of the past four quarters. That's why the real key to the outlook--for both the economy and Fed policy--is the third quarter. Despite the expected softening in this quarter's GDP growth, the supports under consumer spending, business outlays, and industrial output appear every bit as strong now as they were last winter. As long as that holds true, GDP growth is more likely to speed up next quarter than it is to stay down.
RELENTLESS CONSUMERS are the main rebuttal to the lasting slowdown scenario. Amid the strongest labor markets in 23 years and a record-breaking stock market, is it surprising that consumer confidence in May soared to a 28-year high? The Conference Board's index jumped from 118.5 in April, to 127.1, as households showed bursting optimism in both present economic conditions and their expectations of the future (chart).
For some time, consumers increasingly believed that the present situation was improving. Until recently, though, their assessment of prospects for the future were more reserved. But in May, their expectations matched the boom levels of the mid-1980s. May confidence in all nine regions surveyed was higher than it was six months ago.
WHY SUCH EUPHORIA? Jobs are the biggest reason, and job growth may not be slowing the way the March and April payroll data had suggested. The Conference Board's survey showed that 35.8% of households rated jobs as "plentiful," the highest proportion since 1969, while only 17.2% said jobs were "hard to get," the lowest also since 1969. In addition, employment expectations continued to improve.
Moreover, by mid-May, initial claims for unemployment benefits had fallen back to the low levels plumbed earlier this year, after rising in April. That increase now appears to have been the temporary result of auto industry strikes and Midwest flooding, and a strong rebound in May job growth would not be out of the question when the Labor Dept. reports its employment data on June 6. The consensus view is that nonfarm payrolls increased a strong 220,000 last month.
Because consumer spending started the second quarter on such a soft note, household outlays this quarter are set to post only a tepid rise following one of the two biggest quarterly advances of this six-year expansion. However, May spending appears to be looking stronger. The weekly LJR Redbook Research tally shows buying at department and chain stores through May 24 up a seasonally adjusted 0.5% from April.
Also, car sales are looking better in May. Based on partial May data, Ward's Automotive Reports projects that May light-vehicle sales will reach an annual rate of 15.1 million, up sharply from April's 14.3 million pace, which was depressed by harsh weather and strike-related shortages of some hot-selling models. Shortages also will hamper May sales a bit, since Detroit is only now getting back to full production.
High confidence in the economy and the labor markets, along with the stock market gains, are the reasons why housing continues to hold up, even though mortgage rates in May are up slightly from where they were earlier in the year. Sales of existing homes fell only 2.4% in April, to an annual rate of 4.06 million, just a shade below the first-quarter average (chart). April resales increased in the Northeast, declined in the South and West, and were flat in the Midwest. Households have made lots of money in the past year and are plowing some of it back into big-ticket items, which is why businesses are ordering more from manufacturers.
RISING FACTORY ORDERS suggest little reason for a letup in industrial activity in coming months. Bookings for durable goods rose 1.4% in April, retracing some of the 2.2% drop in March. Transportation equipment, mainly aircraft, led the April gain, but even excluding the volatile aircraft sector, bookings stood well above their first-quarter average.
Moreover, the outlook for capital spending remains excellent. Excluding aircraft, private-sector orders for capital goods dipped 0.6% in April, but they still are way ahead of their first-quarter level, which soared at an annual rate of 23% from the fourth quarter. Amid the ongoing vibrancy in high-tech investment, strong demand and good profits also appear to be fueling a pickup in business investment in traditional capital equipment, which had slowed last year. Orders for industrial equipment jumped 2.2% in April, the fifth consecutive monthly advance.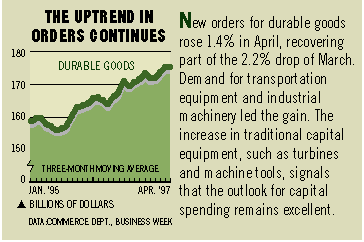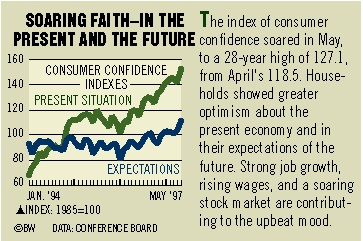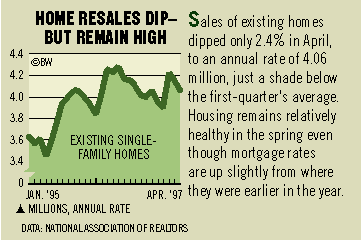 As the recently released minutes of the Fed's Mar. 25 policy meeting show, the central bank will be watching the new data closely. In addition to hiking rates, the policymakers removed the bias toward tighter policy that had been in place for eight months. While a majority felt that "additional policy tightening might be needed," they didn't want to "establish a presumption about further near-term policy tightening." Those opposed to removing the bias agreed to accept the decision, but "with careful monitoring of new developments for any signs of the need for prompt action."
Those signs may show up sooner rather than later. That's because such fundamentals as jobs, incomes, profits, interest rates, and generally supportive financial-market conditions argue that third-quarter growth will be closer to 4% than 2%. That's an economic recipe for prompt action if there ever was one.
Before it's here, it's on the Bloomberg Terminal.
LEARN MORE