The Coming Sparks At Westinghouse
Jordan has gotten more than he bargained for in Mel Karmazin
By
For four years, Westinghouse Electric Chairman Michael H. Jordan has carefully crafted his next job: broadcast mogul. He sold off office-furniture and radar businesses and unloaded home-security systems, all the while buying up media holdings from CBS to Infinity Broadcasting Corp. After a stunning $20 billion worth of deals, nothing less than a portfolio switcheroo, Jordan is just about to leave the industrial remains of 116-year-old Westinghouse Electric Corp. in Pittsburgh and take up permanent residence in William S. Paley's old digs at Black Rock--CBS headquarters in New York City.
But suddenly, there's a monkey wrench in Jordan's plan. It turns out last year's prized $4.7 billion acquisition of radio giant Infinity Broadcasting came with a powerful spoiler attached: CBS Radio Chairman Mel Karmazin, the former chief at Infinity. Karmazin, who became Westinghouse's largest individual shareholder, with 1.7%, when Jordan bought Infinity, is expanding his reach into television--and laying the groundwork for a potentially nasty struggle for control of the entire corporation.
"PAC-MAN." Following stormy meetings in early May, Karmazin prevailed upon Jordan to give him control of the company's 14 television stations, stripping them from CBS President Peter A. Lund, who resigned on May 23. This leaves the unlikely duo of Jordan and Karmazin, a dealmaker and an operations man, both TV novices, to complete a turnaround at CBS. Industry insiders are betting that if the two come to loggerheads, Jordan could find himself overmatched. With a voracious appetite for control, "Karmazin's got an extraordinary Pac-man approach," says Stuart J. Beck, president of Granite Broadcasting Corp., which owns three CBS affiliates.
As a director, a powerful shareholder, and ruler of radio--by far the company's most profitable division--Karmazin is well positioned to swing his weight. Judging from the way he steamrolled Lund, he's swinging away. "Mel hasn't been shy about letting his views be known," notes Westinghouse Senior Vice-President John D. Bergen, who sits with Karmazin on the "chairman's staff," a group of seven top execs.
The 53-year-old Karmazin, known to listeners of shock-jock Howard Stern as the "Zen master," represents a big change in the staid Westinghouse-CBS culture. The Zen master moniker is a play on Karmazin's name--not a description of his personality. Zeroing in on niche audiences and running his sales force at a frantic pace, Karmazin built Infinity into a national behemoth. After Westinghouse bought CBS in 1995, Karmazin hoped to buy the merged company's radio stations for the Infinity network. Jordan, instead, induced Karmazin to sell Infinity to Westinghouse. The results have been compelling. In the first quarter, radio contributed earnings (before taxes and financial costs) of $91 million, 80% of Westinghouse's overall media profits.
UNDER SIEGE. As Karmazin's fiefdom grows, the rest of Westinghouse is struggling. The stock has been stuck at around 18 since early 1996, leaving Jordan to answer regularly to disgruntled shareholders. Last year, Jordan acceded when investors called for a split in the company and promised a new manager when they booed his pick to run the industrial operations.
Now, instead of riding into Black Rock as the unquestioned leader of a growing media empire after the spinoff of the industrial businesses later this year, Jordan may well find himself sharing control with the Zen master. Karmazin wields power both as investor and operations wizard. By contrast, Jordan has scant experience in any form of broadcasting, and with Lund's departure, he will take on a large role in operations--hardly his forte.
Indeed, it was his inability to engineer a revival in Westinghouse's industrial division that led Jordan to switch businesses. When he arrived at Westinghouse in 1993, Jordan aimed to create a "lean and mean entrepreneurial company" that would build infrastructure projects throughout the world. But he left operations to a handful of career Westinghouse managers who were stuck in the old company culture. The results: Westinghouse took a $50 million charge for a nuclear-power venture in the Czech Republic, and its core power-plant business continues to lose money. In the first quarter, industrial and technology operations lost $59 million, even as sales grew by 19.5%. Jordan, unavailable for an interview, has defended his financial focus in the past, arguing that Westinghouse had to restructure and dig its way out of debt to survive.
Now, even as he faces increased responsibilities at CBS, Jordan must quickly hire a new CEO for the industrial division and prepare it for its initial public offering this fall. The IPO isn't likely to cause much partying on Wall Street. Nicholas P. Heymann, an analyst at NatWest Securities Corp., predicts that towering pension, legal, and environmental legacies at the spinoff will consume cash flow for the next two years.
HANDS-ON. Karmazin, meanwhile, will be taking an on-the-job crash course in television, no doubt enmeshing himself in every detail of the stations' operations. Until recently, says Donald Janson, a Westinghouse vice-president in charge of corporate reengineering, Karmazin insisted on personally approving any check for more than $500 at CBS Radio. "We finally got him to raise the limit to $2,000," says Janson.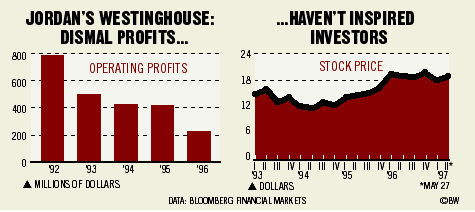 If Karmazin is too tight, he could put a nascent turnaround at risk. The network still attracts an older audience, which is less valuable to advertisers. Nonetheless, CBS has edged past Walt Disney Co.'s stalled ABC in the ratings. It even managed to win a couple of weeks during the May sweeps. Now, though, the network must write some big checks, both to sign stars and, perhaps, buy its way back into pro football--which was lost to Rupert Murdoch's Fox Broadcasting Co. four years ago.
Indeed, Karmazin will find that television is trickier than radio. He must negotiate complex relationships among the network and its stations--and a much more diverse audience. Yet even as he learns the ropes, the emboldened media honcho now knows that if he wants change at CBS, he only has to demand it.