Sunglass Hut Is Feeling The Glare
The once highflying retailer is trying to reverse a slide
by
Jack B. Chadsey, CEO of Sunglass Hut International Inc., likes to tell how the specialty retailer muscled its way to the top. "We came through like Pac-Man and took away share from department and optical stores," he says. The company also gobbled up rivals, growing from 600 stores in 1993 to over 2,000 by 1996. As earnings soared from a loss in 1993 to $21 million in fiscal 1995, investors played along happily.
Now, Chadsey and his shareholders are learning what happens when Pac-Man makes a wrong move. For fiscal 1996--ended in January, 1997--Sunglass Hut lost $225,000 on $527 million in sales. And so far, efforts to reverse the slide haven't worked. On May 22, the Coral Gables (Fla.) company reported first-quarter earnings of $292,000, down 96% from the same period last year.
The story is familiar. After years of blistering expansion in a niche market, a category killer falls to earth when growth begins to slow. Chadsey, 49, blames sunglass makers, cool weather, and other external factors for last year's woes. "Lack of new product was far and away the bulk of the issue," he says.
But suppliers and investors say that many of the clouds that marred Sunglass Hut's sunny forecasts came from within. During last year's crucial summer season, the company misjudged tastes, bungled consolidation of its warehouses, and struggled with a key acquisition. "They assumed there was an almost infinite demand for product because [the stores] were so hot early on," says R. Fulton MacDonald, president of New York-based retail consultant International Business Development.
For many years, infinite demand was not far off. Optometrist Sanford Ziff started Sunglass Hut in 1971, when he opened a sunglass kiosk in a Miami-area mall. In 1989, his son, Dean, brought in Chadsey from retailer Dayton Hudson Corp., where he ran the Branden's specialty stores unit. By June, 1993, when Chadsey and Chairman James N. Hauslein took it public, Sunglass Hut had $141 million in sales.
The IPO shifted Sunglass Hut's growth into warp speed. Even as it plastered new stores into malls, airports, and department stores, same-store sales growth soared from 5.6% in 1992 to 12.8% in 1994. And in June, 1995, Sunglass Hut bought its largest rival, Indianapolis-based Sunsations, for $126 million in stock and debt. It grew to about one-third of the $1.7 billion market for premium sunglasses--those selling for above $30. The split-adjusted stock, trading at about 11 in early 1995, hit 36 1/16 in mid-March, 1996. Says an analyst: "These guys walked on water."
Yet the first signs of trouble were already showing. In December, 1995, financial sleuth Howard M. Schilit, president of the Rockville (Md.) Center for Financial Research & Analysis, sent a report to his investor clients warning that Sunglass Hut's operating cash flow had plummeted and inventories were building up. He also noted that Sunsations had begun to weaken before the sale.
Still, Chadsey remained confident. Retailers and investors were anticipating a boom 1996, helped in part by trendy designs such as a metal "wrap" look by Oakley Inc., which had been a big 1995 hit, and by the 1996 Summer Olympic Games. But a chilly summer dampened demand, and consumers who did shop weren't happy. The designs did not differ enough from 1995 for style-conscious buyers, while traditionalists rejected the metal look. Same-store sales growth fell sharply: By August, it had dwindled to just 2.5% from the previous year's 18.8%.
Internal snafus exacerbated the problem. In late June, a software meltdown occurred as the company combined five distribution centers into a new automated center in Atlanta. The snag, coming as Sunglass Hut consolidated a warehouse for 500 of its busiest stores, meant it had to fill orders manually.
Some suppliers say these problems masked the sales slump. "Everyone was seeing this picture of phenomenal growth and assumed that product was turning over at retail," says one. Adds Mike Parnell, CEO of supplier Oakley: "There was a 60- to 90-day time period where they didn't have a good handle on what they had." Inventories swelled to $151.8 million in the quarter ended Aug.3, from $129.4 million the previous quarter.
By the end of September, Sunglass Hut's stock had plummeted to about 16. It now trades at about 7 3/8. Shirley P. Wingate--whose small sunglass chain was bought by Sunglass Hut in 1995-- has seen the value of her 76,000 shares fall by about $1.4 million. Says Wingate: "You grow and grow until some point, and then you have to run the company."
Chadsey says he warned investors that sales growth would one day level off but admits that the once voluble company clammed up as trouble mounted. A shareholder lawsuit filed in January, 1997, alleging fraud asserts that the company "failed to disclose material facts" when insiders sold stock in April, and while it was trying to ensure smooth sailing for a $115 million bond offering last June. Chadsey denies the allegations; he says the stock and bond sales took place before a slowdown was apparent. The company has moved to dismiss the suit.
FORESIGHT. To spur sales, Chadsey published a catalog in late summer, with little effect. Unable to control inventory, he shocked the industry in October by halting nearly all orders from Bausch & Lomb Inc. and others and seeking to return glasses. "It was a combination of order stoppage and returns that took suppliers by surprise," says Jim Pritts, former vice-chairman of sunglass maker Revo Inc., a unit of Bausch & Lomb. The fallout was severe. When Sunglass Hut tried to return stock, some suppliers played hardball, canceling rebate and discount programs and causing Sunglass Hut's merchandising costs to rise.
Now, Chadsey has scaled back his grand plans. In March, the company took an $18.7 million write-off to close 150 sites. He has pared inventory and bolstered management. He has slowed the rollout of watch-store chain Watch Station and will open just 150 Sunglass Hut stores this year, down from 389 in 1996. The advertising budget has been doubled, and Chadsey is also sprucing up stores. "Our visual presentation got stale, and our people got stale," he says.
Still, the moves come against a setting of tougher competition from chains like American Vision Centers Inc., which is giving sunglasses more space in its 170 stores. And burned suppliers say they're now cautious. Oakley's Parnell, for one, plans to widen his distribution base.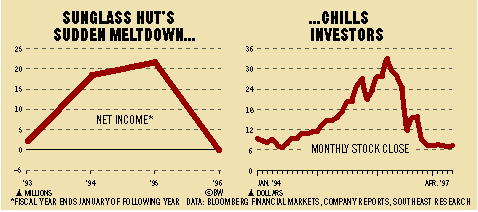 Chadsey concedes the pressure is on. Hauslein, a large investor in the company since 1987, has left his investment firm and is working full-time at Sunglass Hut. While Southeast Research Partners' retail analyst David A. Buchsbaum thinks the company will rebound to earn $21.7 million on sales of $600.6 million this year, he says it must regain credibility on Wall Street. Adds a large investor who bought in after the shares tanked: "They're starting out humbled. They will go back to their basic format and restart." But it will be a while before anyone compares Sunglass Hut to Pac-Man again.
Before it's here, it's on the Bloomberg Terminal.
LEARN MORE