Japan: Exports Will Boost A Taxing Economy
By
The economy is recovering moderately, say Japanese officials, but foreign trade seems set to be the primary source of strength through the summer.
Domestic demand was unsustainably strong in the first quarter, as consumers bought in advance of the Apr. 1 hike in Japan's value-added tax, from 3% to 5%. Car sales surged in February and March, and nominal first-quarter retail sales were up 7.8% from a year ago. As a result, real gross domestic product may have grown at nearly a 5% annual rate last quarter.
That strength is evaporating in the second quarter, thanks to the tax hike. Car sales, for instance, plunged 33% in April from March, and department stores reported weaker sales for the month as well. The broadest measure of future economic activity, Japan's leading diffusion index, fell to 30 in March, from 40 in February. A reading below the 50 mark indicates a slowdown.
Without consumers, Japan's economy must depend on foreign trade to lift output and growth. The two-year drop in the yen vs. the dollar has certainly helped the trade surplus widen again (chart). In April, the surplus rose to 831 billion yen ($6.6 billion), up sharply from 315 billion yen in April, 1996. A 21.5% jump in exports from a year ago outpaced the 8.1% gain in imports. But imports had surged earlier, as demand jumped before the tax hike.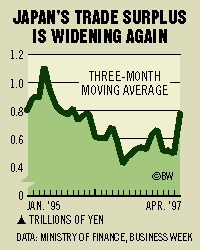 Exports should continue to grow through 1997, even with the recent strengthening in the yen over the dollar. After the U.S. currency hit a 4 1/2-year high of 127 yen on May 1, the dollar has slumped to 116.6 yen on May 27. In order to head off further currency volatility, Japanese officials have expressed confidence that the yen has stabilized. And even in late May, the exchange rate still seemed favorable enough to enable exports to lead Japan's recovery for the rest of 1997. Better export growth, in turn, has brightened the outlook for Japanese corporate profits, lifting hopes that job growth and capital investments will help domestic demand firm up later this year.